A night in a traditional Hanok home, full of warmth, hospitality
Amid the forest of high rises in downtown Seoul, there is a chic quarter of traditional Hanok houses, creating a stark contrast between tradition and modernity.
It's the Bukchon Hanok Village, located in Jongno-gu. Travelers who hit the neighborhood as part of their itinerary can do more than simply appreciate the iconic traditional structures. They can also stay at one of those Hanok homes to find out what living in such an old-fashioned residence is all about.
Lodging at a Hanok allows you to take a respite from the hustle and bustle of city life and it is a quiet place to heal the wounds of both the mind and the spirit. Guests are welcomed by a hospitable host and huddle together with other travelers to share their own life stories.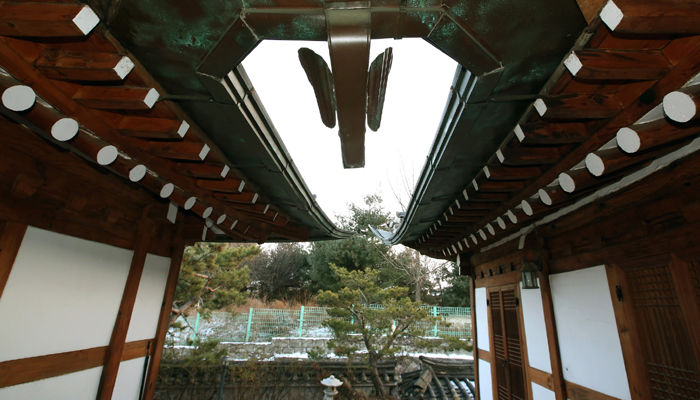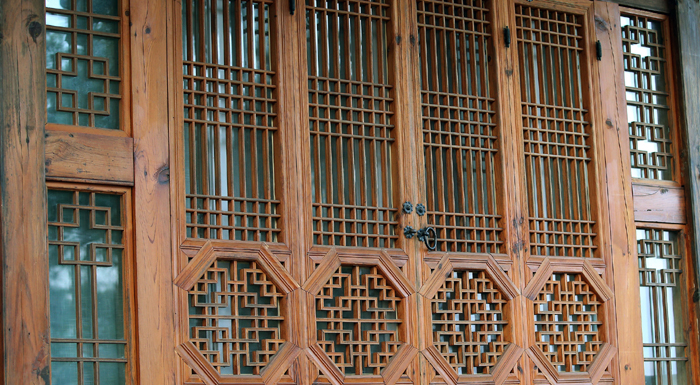 The Tteulanchae Hanok guesthouse in the Bukchon Hanok Village allows lodgers to experience firsthand what it's like to live in a traditional home.
"There are about 100 Hanoks in which to spend the night in Seoul alone, and more than 500 across the nation as a whole," said Jo Sanku, CEO of Kozaza, a company that helps find travelers a good Hanok in which to stay.
"The host can earn money by sharing his or her home, while the lodgers can experience traditional Korean lifestyle, food and people, as well," Jo added.
Jo shared some of his anecdotes involving CEO Eric Schmidt of Google who visited a Hanok last fall via Kozaza. Sitting on the floor of the Hanok, Schmidt wished he could get a house like a Hanok built if he had the chance, and he felt so good with the pleasant autumn sunshine and breeze, Jo reminisced.
Travelers from other countries are increasingly opting for Hanoks when they choose their lodgings, where they can see the "real Korea" at an affordable price, as opposed to staying in a luxurious hotel.
Korea.net, too, ventured out to the iconic neighborhood to verify firsthand the atmosphere and charms unique to a stay in a Hanok. We chose the Tteulanchae Hanok, situated along a hillside.
When we arrived, the host, Choi Kyung-hwan, warmly welcomed us, beaming with an ear-to-ear smile.
Choi has run her residence since May last year with the help of Kozaza. When she updates her vacancies at the Kozaza site (www.kozaza.com), travelers can make reservations in advance.
The Tteulanchae Hanok consists of a total of four rooms: a small one, a medium-sized one and two bigger rooms.
Prices start at KRW 60,000 per night for the smallest room for two people, at KRW 80,000 for the medium-sized room and at KRW 100,000 for the biggest one.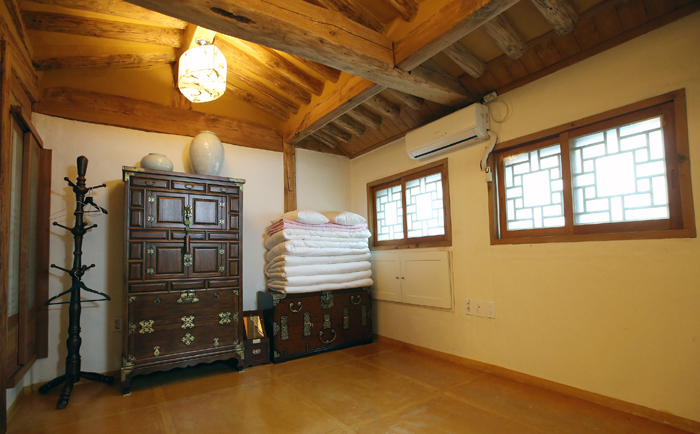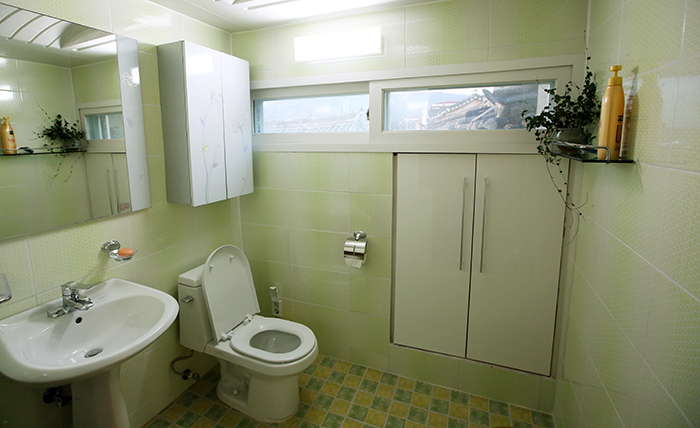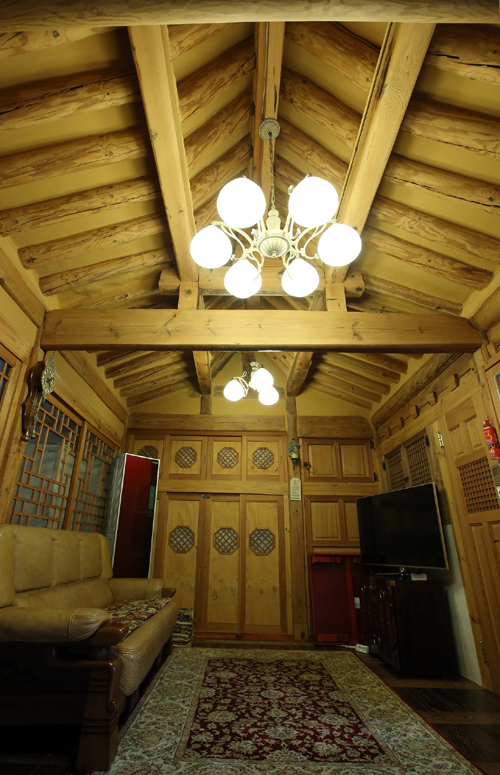 The Tteulanchae Hanok, one of the numerous Hanok homes in the Bukchon Hanok Village in Jongno-gu, Seoul,
is equipped with an efficient under-floor heating system, known asondol, a clean and convenient shower and kitchen facilities, as well as clean bedding.
The host lived in the residence herself for 35 years. She met her husband, who was born and grew up in the neighborhood, and after marriage they bought the home in which to raise a family.
She claims that her Hanok is, "One of very few places where you can hear tales about Bukchon's history from a living witness."
What caught our eye upon entering the home were the very modern, trendy shower and kitchen facilities, in contrast to its traditional architectural style.
"Everyone, from both home and abroad, prefer clean things," said Choi. "All guests prioritize a clean bathroom and clean sheets."
When asked what it is that makes lodging in a Hanok more appealing than staying in other types of accommodations, the host said, "You can have a unique feeling, like reminiscing on good memories, including your old hometown and parents. Such a feeling, you cannot have in other places."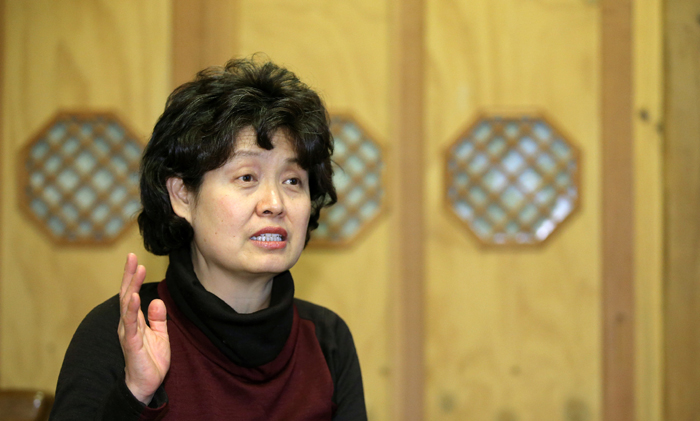 Choi Kyung-hwan runs the Tteulanchae Hanok guesthouse in which she lived for 35 years, located in the Bukchon Hanok Village, in Jongno-gu, Seoul.
The atmosphere here, true enough, evoked old memories, like the time we spent with relatives at our grandparents' place when we were young, as if we travelled in a time machine back to the past.
There were no chilly moments at all, even in the long, cold winter night, thanks to the efficient under-floor heating system, known as ondol, where hot water is piped through the floor boards.
Even people who are fairly sensitive and can't fall asleep easily away from home can have a good night's sleep in a Hanok, buried under the thick bedspreads above the ondol warmth.
The next morning, we found ourselves looking at the sun emerging from a forest of modern high rises. Soon, the host brought in a table for our breakfast: milky-white beef bone soup, cabbage kimchi and sliced radish kimchi,kkakdugi, all food that Choi herself made and fermented underground in her front yard.
"I offer whatever my guests want to have for breakfast," said Choi. "Non-Korean guests, too, are really into Korean cuisine. Once when I made a kimchi stew, they really liked it."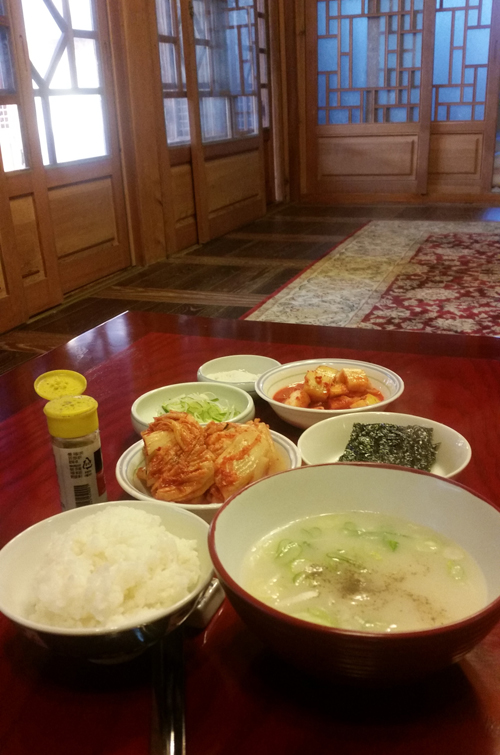 The Tteulanchae Hanok offers breakfast to its guests, usually Korean cuisine, including a hearty bowl of soup, rice and home-made kimchi.
Non-Korean visitors who speak different languages are no problem for Choi. "I once had guests from Singapore and mainland China and didn't understand what they were saying. However, using an interpretation app on my smart phone really helped. Simply speaking short words and using this tool I was able to talk to them. Not using long, complete sentences, we can understand each other and feel somewhat connected to each other."
Tradition, cleanliness, hospitality and a warm breakfast with motherly sincerity: all these aspects of a Hanok stay are the reasons why travelers keep coming back.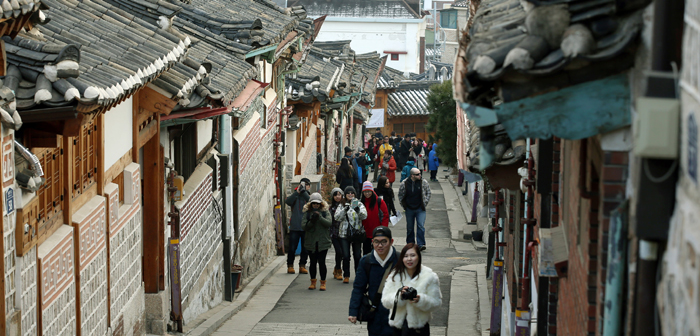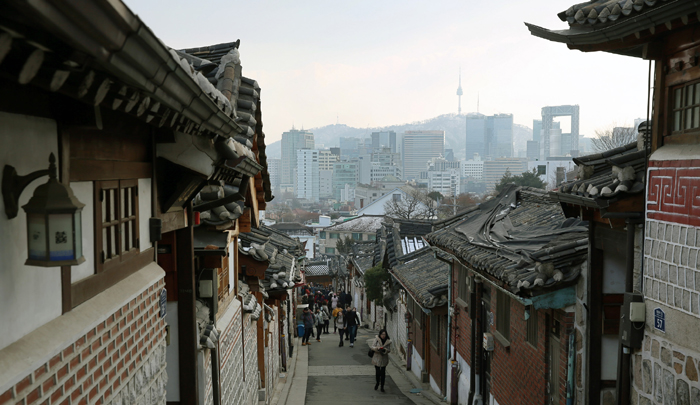 The Bukchon Hanok Village, a neighborhood of traditional Hanok residences in Jongno-gu, Seoul, creates a contrast between tradition and modernity, as it blends with the surrounding high-rises.
The stark contrast attracts tourists not only from home, but from abroad, too.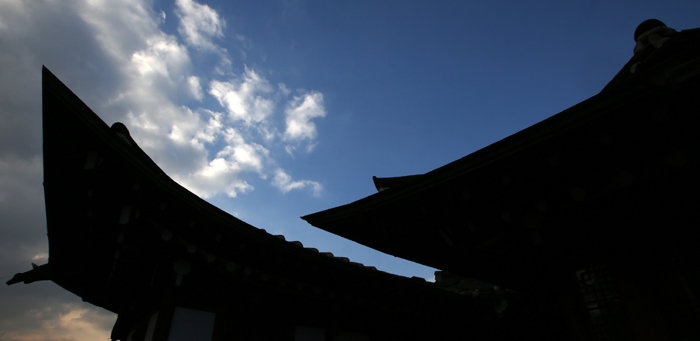 The cloudless clear sky is spread above and between Hanok roofs.
※ Address of the Tteulanchae Hanok: 33-37 Gahoe-dong, Jongno-gu, Seoul
– How to get there: Head out of exit No. 2 of Anguk Station. Go about 450 meters to a crosswalk at the three-way intersection in front of the Jaedong Elementary School. After crossing the street, turn left at the Gahoe Gallery and walk about 155 meters.
– Contact number: 02-743-0886
– E-mail: chajin81@gmail.com
By Sohn JiAe
Photos: Jeon Han
Korea.net Staff Writers
jiae5853@korea.kr