Gugak jazz mesmerizes Berlin audiences
Joyful or sometimes plaintive, the singular tones of jazz fill the concert hall.
The audience shouts, "Bravo," as exotic sounds are made by the sad melody of the daegeum, a large bamboo flute, of the haegeum, a fiddle-like stringed instrument, and of the drums and saxophone. This is a scene from the opening concert of the Jazz Korea Festival 2014 which took place at the Tempodrom in Berlin on December 1.
Marking its second year, the festival is hosted by the Korean Cultural Center (KCC) in Germany and will run from December 1 to 7. A total of seven groups of Korean musicians will tour major cities in Germany, including Berlin, Frankfurt, Hamburg and Munich, and then to Warsaw in Poland, to showcase the exceptional feeling of Korean jazz.
The German audience showed great interest in the unique and interesting stage performance by the band MosaiKOREA. Led by Huh Yoon Jung, a master of the geomungo, a six-stringed Korean zither, this band is composed of five gugak, or traditional Korean music, musicians. The band also includes a saxophonist, a bassist and a drummer. Their performance had three curtain calls and the audience loved it until the end.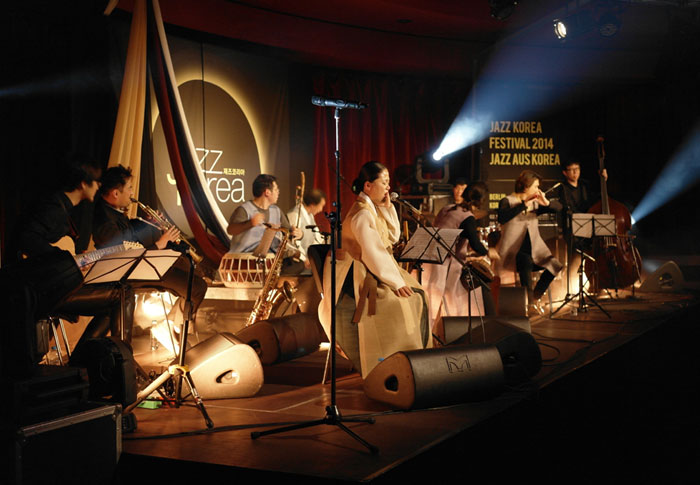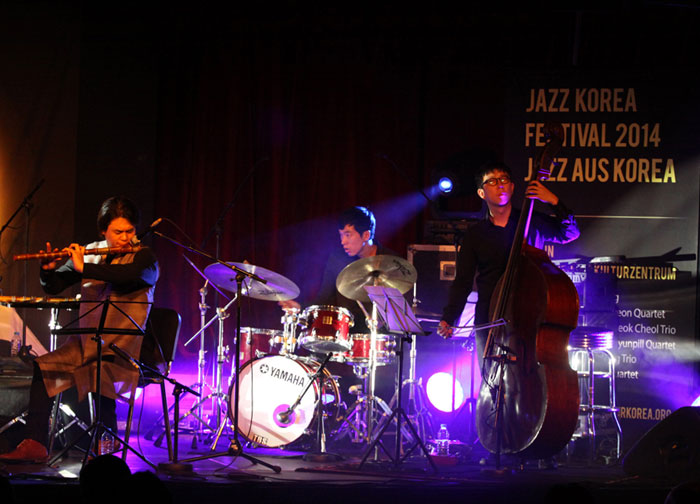 This year's festival was directed by In Jae-Jin, director of the Jarasum Jazz Festival, Korea's largest such event. In emphasized the Berlin festival by saying, "The Jazz Korea Festival will offer a meaningful opportunity for Korean jazz musicians to meet with great European musicians and to develop a relationship between them."
The KCC in Germany said, "Last year's Jazz Korea Festival introduced the charm of Korean jazz to Germany. We will make this festival into an annual event."
KCC in Germany Director Yun Jong-seok said, "Our center will help Korean musicians work in Germany, as Korean jazz is well known here thanks to jazz vocalist Nah Youn-sun. We plan to expand the festival's tour to Belgium and Hungary next year."
By Yoon Sojung
Korea.net Staff Writer
Photos from KCC in Germany
arete@korea.kr