"Get a taste of this."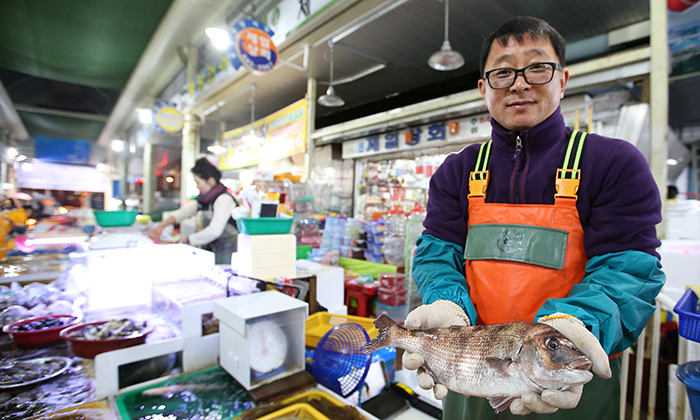 "Get a taste of this."
This is something that every visitor hears when they visit the Tongyeong Jungang Market. Everyone from taxi drivers, to average citizens and to public servants working for the city of Tongyeong in Gyeongsangnam-do (South Gyeongsang Province) recommend the Tongyeong Jungang Market and the Seoho Traditional Market to sample the city's best food offerings. Even merchants at two representative traditional markets in the city recommend the Tongyeong Jungang Market, where visitors can pick and choose live fish for their dinner that night.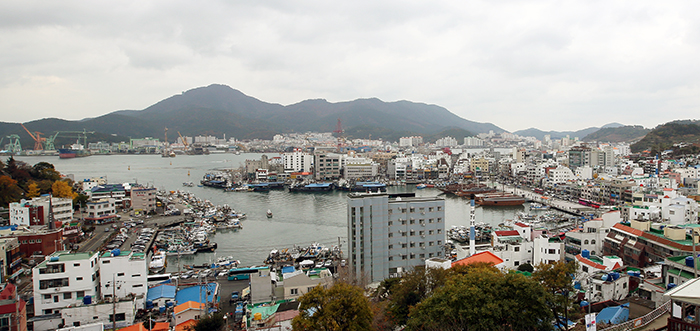 The Tongyeong Jungang Market, which faces the Gangguan Port, is always crowded with visitors looking for various types of fish, shellfish and other foods.
The Tongyeong Jungang Market is formed along a long stretch of quay-side kiosks. Visitors can easily see that the city is one of the busiest ports in Korea with its abundant fishery products. The market is full of noise as merchants and visitors try to make a deal while live fish try to jump out of their tanks, splashing water everywhere.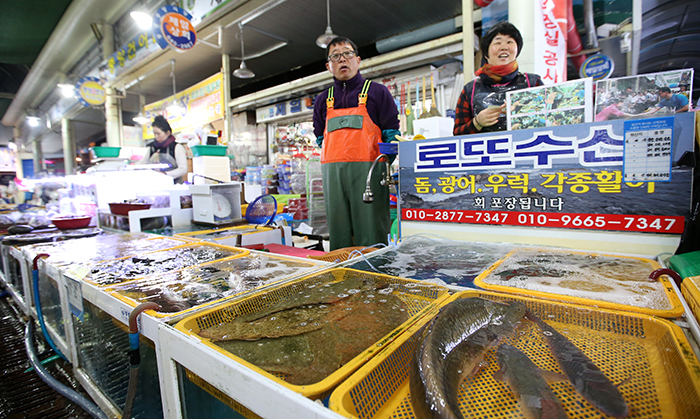 Jeong Gwang-u, owner of Lotto Fisheries located in the middle of the market, shouts out, "KRW 30,000," pointing at four live fish in a basket, each as big as an adult's forearm. Some visitors waved their hands in dismissal, incorrectly thinking that four fish would cost a total of KRW 120,000. They thought that would be too expensive for them. Then, Jeong holds up one of the rockfish, struggling hard to get out of the basket. "I will charge KRW 10,000 per person for the fish, so try it," said Jeong.
The visitors were surprised after realizing that four fish cost only KRW 30,000. "In Tongyeong, people can eat the freshest fish at a very reasonable price," said Jeong. Then, he started scaling the fish.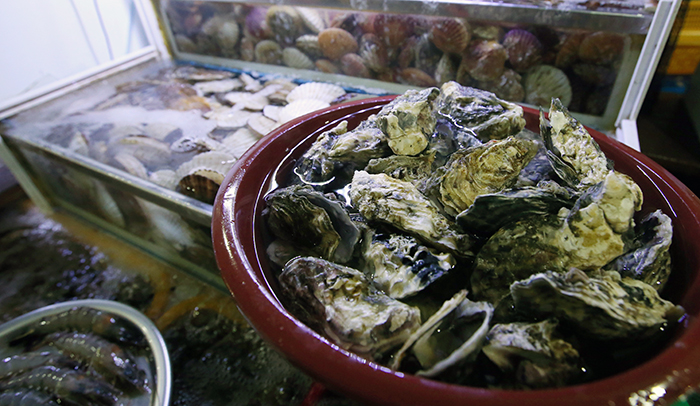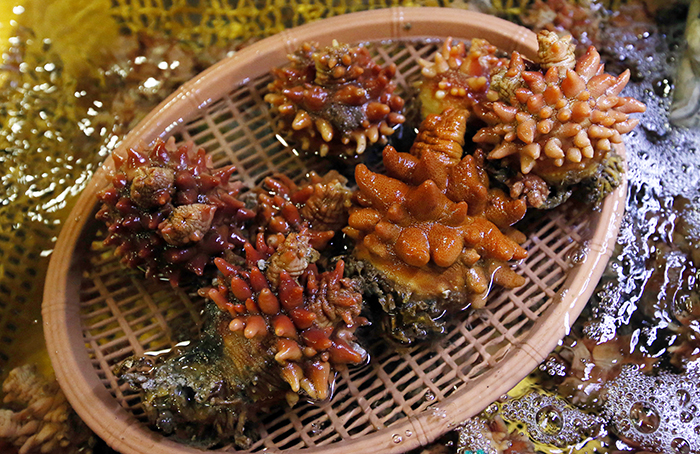 One merchant nearby selling oysters, clams, shrimp and sea cucumbers gave one shopper some extra oysters, in addition to what they bought. "Oysters are in season," she said.
While diners were eating their raw fish dishes at the restaurants in the corners of the market, merchants gave more fish for free even though the patrons didn't order anything more.
Traditional markets are places where people can truly feel the country's typical warmth. For many years, the citizens of Tongyeong have enjoyed abundant lives due to plentiful fish harvests and relished in a sense of ease all around.
"There is an old saying that goes, 'Do not brag about your money in Tongyeong and do not brag about your fighting in Yeosu.' People from Tongyeong have enjoyed relatively abundant lives ever since a long time ago," said Lee Jung-do, a manager at the Docheon Theme Park, a memorial for composer Yun Isang. "There are many other factors, too, but due to these reasons, many famous Korean artists are from Tongyeong."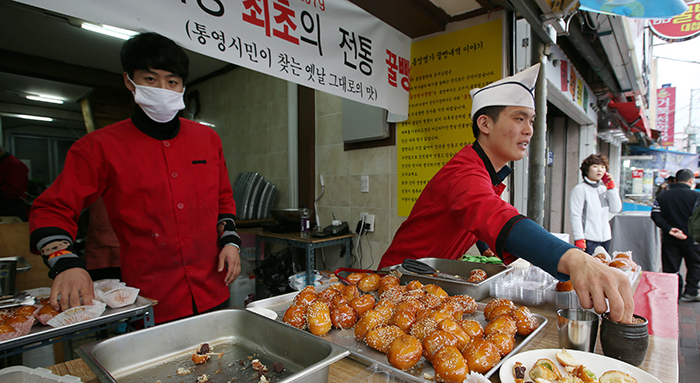 The Dongpirang Mural Village, which has become a major tourist attraction in the city, is connected to the Tongyeong Jungang Market. Because of that, the market is busier during the daytime. It is always crowded with tourists, locals, who come here for grocery shopping, and merchants.
The Chungmu Gimbap outlet, which sells seaweed rolls and squid marinated in a chili sauce, and the Tongyeong Honey Bread store, located on the street in front of the market, are both famous eateries in Tongyeong. Even people who are not hungry stop by to look at the stores. Young smiling merchants tell passersby to taste the honey bread, shouting, "You don't need to buy. Get a taste of Tongyeong's honey bread."
Memories of these young merchants in such a lively city are great reasons for tourists to return.
By Jeon Han, Limb Jae-un
Korea.net Staff Writers
Photos: Jeon Han
hanjeon@korea.kr