A sculpture of an elephant inlaid with silver, a lifelike replica of a Portuguese trade ship that is about to head out to sea, a gold sculpture from Nepal and a jar decorated with traditional Algerian patterns.
This is not simply a collection of craftworks of the world. These are gifts received overseas during diplomatic summits conducted by former presidents, from Rhee Syngman, the first president, to Lee Myung-bak
.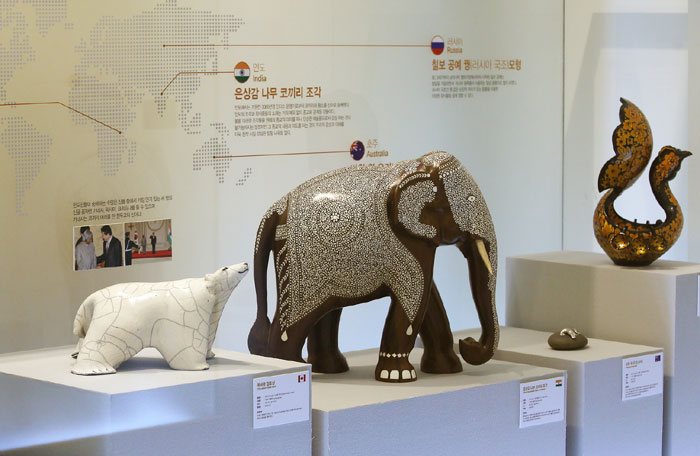 A special exhibition entitled "Sincerity and Regards From All Over the World" is currently being held from October 2 to November 2 at the Cheong Wa Dae Sanrangchae, a multi-purpose exhibition hall next to Cheong Wa Dae. These presents vary from traditional weapons, tea sets, dolls and sculptures, to animal ornaments, and they all hold special meaning.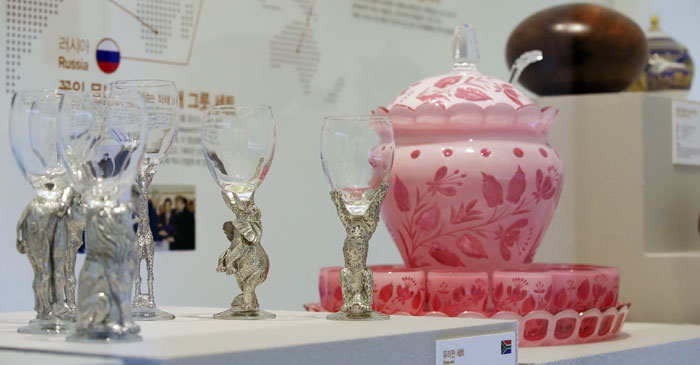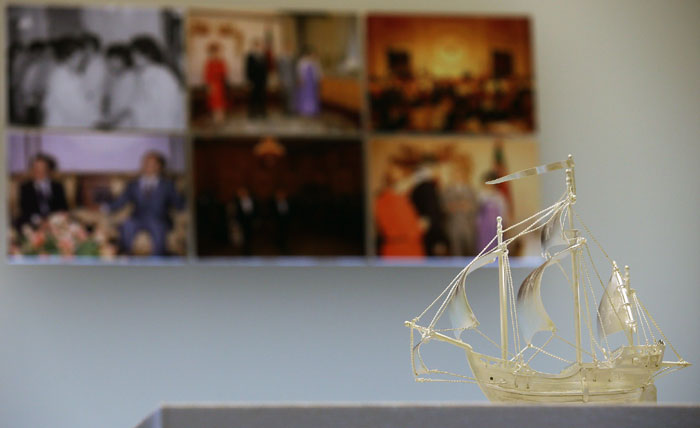 The exhibition highlights nine gifts from among all the gifts on display to represent certain continents or topics, like "Europe" or "traditional weapons." It also features related photos and other records from the summits alongside the selected items. These nine items include a sculpture of an elephant inlaid with silver from former Indian President Abdul Kalam. He offered it to President Roh Moo-hyun during his Korea visit in February 2006. There is also a jar and a set of bowls decorated in a pink floral pattern which former Russian President Boris Yeltsin offered to President Roh Tae-woo during his visit to Korea in November 1992.
The jar and bowls from Yeltsin hold a particularly important meaning in the world of diplomacy. Yeltsin was the first Russian leader to be elected by popular vote. The two leaders signed the basic agreement on the relationship between Korea and Russia on the occasion of the Korea-Russia summit. In the case of the silver-inlaid elephant, elephants represent power, the royal family, dignity, patience, longevity and a happiness which can remove all obstacles.
Lee Jae-jun, director general of the presidential archives, emphasized the importance of the exhibition by saying, "The presents offered to former presidents are records that reflect their diplomatic activities and the summits which they attended, and show the friendship that exists between Korea and other countries."
By Yoon Sojung
Photos: Jeon Han
Korea.net Staff Writer
arete@korea.kr