Visitors to Korea can choose from a wide range of quality accommodation, including hotels, inns, hostels, homestays and condominiums. 
There is an extensive choice of hotels. At the lower end, rates start at about 80,000 won (US$72.20) per night, and in the case of deluxe hotels, room charges go up from about 170,000 won (US$153.43).  An increasing number of hotels offer recreation facilities such as swimming pools, saunas, indoor driving ranges, bowling alleys and health clubs for their guests. There are also dance clubs, karaoke bars, casinos and recreation rooms, providing nighttime as well as daytime entertainment. In addition, exciting and fun-filled special seasonal events and packages are available throughout the year. 
Inns (yeogwan) and hostels are inexpensive types of accommodation. They offer simple, clean rooms. Rates vary with the services and facilities provided. Staying at hostels can cost as little as 10,000~22,000 won (US$9.02~19.86) per night and inns range from 30,000 won to 60,000 won (US$27.08~54.15). 
Goodstay is a reliable and affordable accommodation service endorsed by the Ministry of Culture, Sports and Tourism and the Korea Tourism Organization. International standards were applied to register motels and inns that have demonstrated quality management and services. Rates are reasonable from 50,000 (US$45.13) to 100,000 (US$90.25) won per night on weekdays. As of Mar. 2013, over 449 establishments nationwide have received the Goodstay seal of approval, ensuring everyone from backpackesr to business travelers has a delightful stay in Korea.
Temple Stay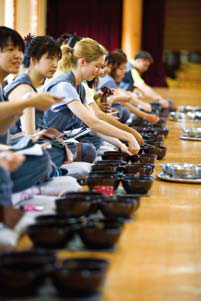 Modern life is fast paced and stressful. Living in a hectic world, we are always in a hurry to get to someplace. Temple stay programs like the one at Samhwasa Temple give modern people a break from busy routines, an opportunity to concentrate on quietness and meditation without all the accoutrements we carry throughout our urban lives. 
Currently there are 109 temples participating in the program nationwide. Basic overnight programs can be simplified to a half-day program (3.5 hours), or extended to 3- and 4-day experiences. Temples are always open to individual participants while groups may make reservations at any temple all year long.
Most temples participating in the program are located in well-preserved national or provincial parks and mountains. Thus, the program provides participants with a magnificent chance to relax, reflect and revitalize themselves in the tranquility of nature. 
For more information about temple stay programs, go to www.templestay.com.
Condominiums are apartment-style lodgings which provide convenience and comfort because of their private cooking facilities and seminar rooms, swimming pools, recreational facilities and nearby restaurants and supermarkets. They are usually located near ski resorts, famous mountains, parks, and beaches and are quite spacious. Although condominiums are exclusively rented to members during peak seasons, they can be rented to nonmembers during the slow season. The cost differs significantly according to facilities, but it typically costs around 80,000 (US$72.20) to 150,000 (US$135.38) won per night. However, there are luxury condominiums that can cost upwards of 200,000 (US$180.51) won per night. 
Pensions are a new type of lodging that have recently appeared in Korea. Pensions are usually located in tourist areas filled with natural scenery and landscapes. They are European-style houses or cottages and provide an excellent place for rest and recreation in a natural setting. There are many forms of pensions, from villas to simple log cabins. They are becoming extremely popular with couples and families. 
Some Korean families offer homestays at a very reasonable rate or even for free to make friends from other countries. This is a good opportunity to make Korean friends and experience Korean family life firsthand. 
Hanok (Korean Traditional Houses) are architectural gems, crystallizing a housing culture that has developed in the Korean Peninsula over thousands of years, veritable artworks in their own right. An ingenious floor plan, elegant details and an overall simple yet refined appearance are traits shared by Korean houses. The outstanding visual flair of Korean people is nowhere better reflected than in the houses they built, letting empty space speak its own aesthetic language and ensuring that harmony is omnipresent. 
The foremost essence of a Korean traditional house, however, is its ability to seamlessly blend into the natural environment surrounding it and allow its occupants to live with nature, as part of nature. No wonder, each and every day spent in a Korean house feels like another step in life's artful journey. 
In the countryside, some families rent rooms to travelers at very inexpensive rates, around 15,000 (US$13.54) to 30,000 (US$27.08) won depending on the season and the quality of the room. Since these "minbak" are often in humble private homes, the rooms do not come with private baths, and guests usually sleep and eat on the floor in the Korean traditional way. But a wholesome breakfast is often part of the arrangement, which is particularly nice if visiting small towns with no restaurants.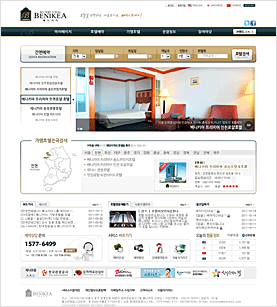 BENIKEA, which stands for 'Best Night in Korea,' is the brand for a new-concept hotel chain, bringing together the best and most comfortable hotels in Korea. Fifty-four hotels, graded 'deluxe' and below, currently participate in BENIKEA. The purpose of this hotel chain providing quality accommodation at affordable rates is to bring more business to medium and low-cost hotels and improve accommodation infrastructure to boost the tourism competitiveness of Korea. Read on to discover the advantages offered by BENIKEA, providing travelers with an optimal accommodation solution wherever their travels may lead in Korea. 
BENIKEA's fifty-four participating hotels are located in all the most traveled cities and regions across the country, including Seoul, Busan, Gangwon and Jeju, and its coverage is slated to further expand as more hotels join the chain. From hotels conveniently located for transportation, to downtown hotels great for city tours, hotels near an airport, coastal hotels with an ocean view, and hotels in hot spring districts and ski resorts, BENIKEA offers accommodation for all tastes and preferences, and is present wherever the attractions are.
BENIKEA offers accommodation for all tastes and preferences, and is present wherever the attractions are. www.benikea.co.kr