Korea receives awards in int'l math, physics competitions
Korean high school students have recently received remarkable results in a series of international scientific competitions. 

Korea took seventh place in the International Mathematical Olympiad (IMO), held in South Africa earlier this month, and the country was also the silver winner at the International Young Physicists' Tournament (IYPT), held in the U.K. 

At the math competition, a total of 560 students from 101 countries attended the IMO, which took place in Cape Town from July 3 to 13. Korea recorded the seventh highest score with 172 points, winning two gold medals and four silver medals. China ranked top in the competition, with a total score of 201. The U.S. was second followed by Taiwan, Russia, Japan and Ukraine.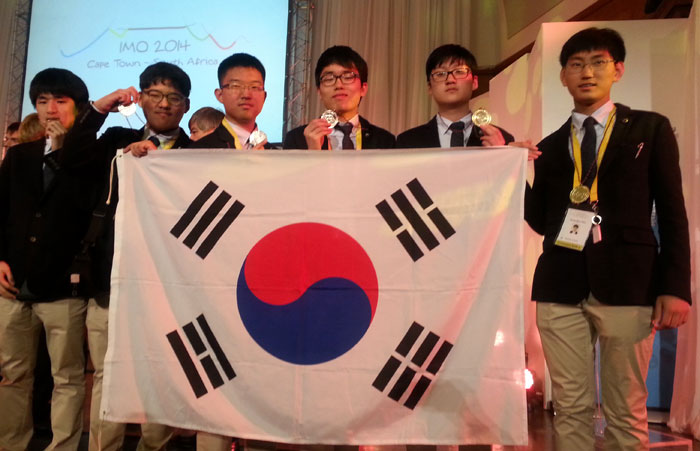 Six students from the Korean delegation won medals. Among them is Kim Dong-Ryul, a high school third grader from the Seoul Science High School, who has now become the first Korean participant to win a gold medal three years in a row. 

The IMO began in Romania in 1959. The Olympiad is held every year and its goals are to foster and incubate talented youth in mathematics, to promote exchanges between mathematicians and gifted students across the world and to push for an exchange of information concerning math education. Students under 20 years of age who have not yet received a university education can participate in the annual competition. Up to six students from one country are allowed to participate each year. 

In the physics competition, Korea ranked fifth at the IYPT 2014, which took place in Shrewsbury, U.K., from July 3 to 10. The delegation of Korean students became the silver winner in the international physics tournament, attended by a total of 140 students from 28 countries. Singapore ranked top in the competition. Slovakia, Poland and China followed suit.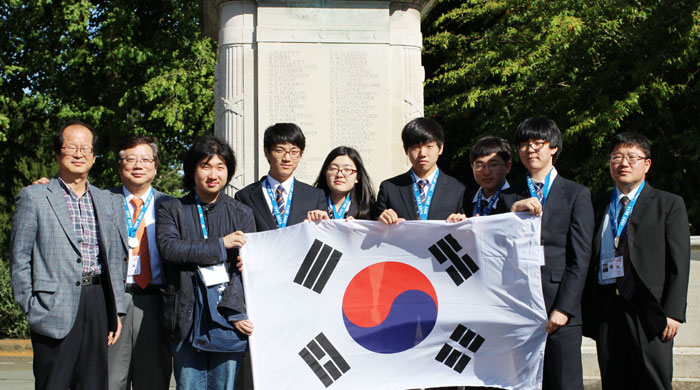 The IYPT is an annual international physics competition for high school students. Tournament participants need to discuss and present their views in English and solve the 17 allotted problems before their competitors. The judges assess the overall team work, competitive attitude, presentation ability and discussion capability of each of the participating teams. 

Korea began participating in the annual tournament in 2002 and has so far won the competition four times. 

By Yoon Sojung
Korea.net Staff Writer 
arete@korea.kr