Impressionism and 19C Paris come to Seoul
Impressionist painters portrayed subjects from their everyday lives and from nature, using fine, scattered brush strokes, a sophisticated depiction of light and a wide range of color. Their works have long been some of the most favorite among art lovers. 
Many of these Impressionist paintings belong to the Musée d'Orsay, or Orsay Museum, in Paris and have just arrived in Korea. The "Beyond Impressionism: Masterpieces from Musée d'Orsay" exhibition at the National Museum of Korea in Yongsan District, Seoul features works by Claude Monet, Paul Gauguin and Vincent van Gogh, as well as sculptures, household wares, drawings and photographs from the time. The exhibition is being held partly to mark the 130th anniversary this year of the Korea-France diplomatic relationship.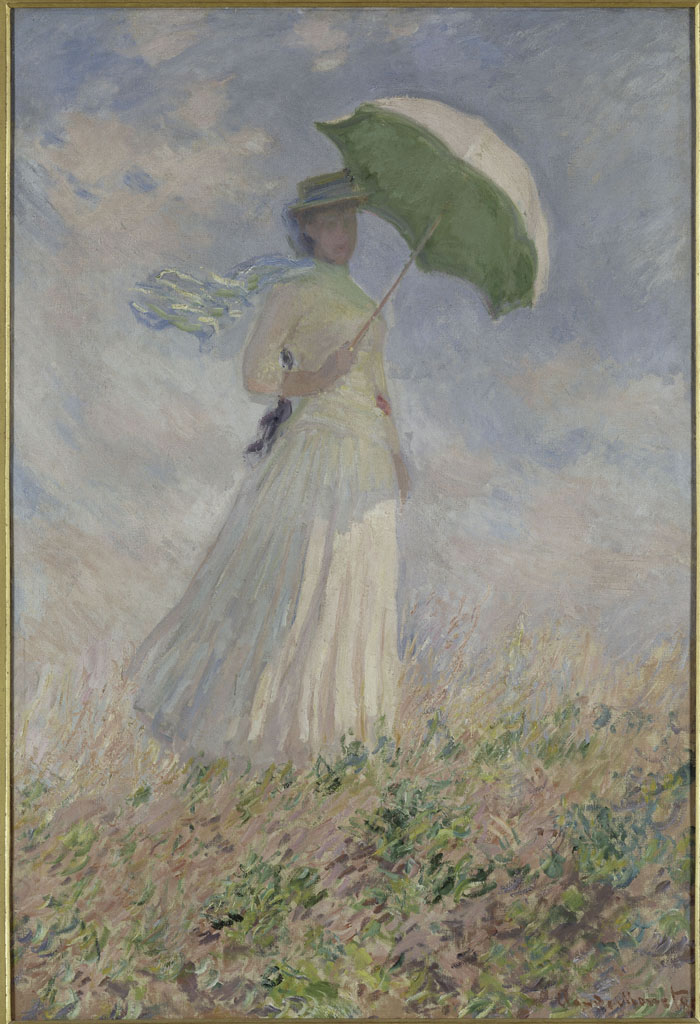 The exhibition shows how art developed from Impressionism and Neo-impressionism through to the Pont-Aven school, Symbolism and the Nabis school. It also shows Paris as a modern city and depicts life in Paris in the late 19th century, a time referred to as the belle époque, literally meaning the "beautiful age." The emergence of a public transportation system, including railroads, allowed painters to venture out of the city and to portray nature and a pastoral life. Colored paints and white canvases started to be produced en masse, which, again, permitted them to go outside and conveniently express the wide range of colors found in nature. 
This Impressionist and Neo-impressionist exhibition also shows the evolution of different painters' styles throughout the 1880s, painters who developed their own approach to art. "Study of a figure outdoors: woman with a sunshade turned to the right" (Essai de figure en plein-air: femme à l'ombrelle tournée vers la droite) by Claude Monet is a work produced in the latter part of his career. It is also one of the major works in this exhibition. The woman is painted standing against the sun, with a light breeze on a hill, holding a green sunshade. Her face is obscured because of the shade created by the sunshade. The grass is dynamic, with touches that remind you of a windy hillside. 
Neo-impressionism then emerged and artists began to describe colors in a more scientific way, reflecting optical theories, unlike the impromptu and irregular color use seen in Impressionism. "Avignon, Evening (The Papal Palace)" (Avignon. Soir Le château des Papes) by Paul Signac is one of most beautiful Neo-impressionist pieces shown in the exhibition.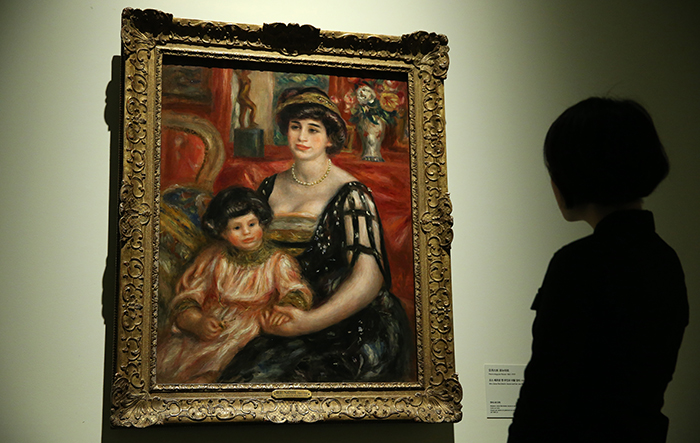 "Madame Valtesse de la Bigne" by Henri Gervex both show the prosperous lifestyle of belle époque Paris. (photo: Jeon Han)
Many artists, including Paul Gauguin, Vincent van Gogh and Paul Cezanne, flocked to Paris, the center of the arts at the time, but they became disillusioned by life in the city and started a new life in the countryside. "Yellow haystacks (The golden harvest)" (Les meules jaunes ou La moisson blonde) by Gauguin was painted when he was living in Pont-Aven, a remote village in northwestern France. There, he portrayed exotic and spiritual subjects with simple shapes and patterns and with strong colors. Van Gogh also left Paris and settled in Arles in 1888. There, he created paintings that reflected his mental landscape with strong expressions. "Eugene Boch (The poet)" by Van Gogh is on display at this exhibition. Cezanne settled in his hometown, Aix-en-Provence, and started endlessly observing and analyzing nature and tried to describe it in different ways. "Mount Sainte-Victoire" is on display now in Seoul and is one of the works he produced at that time.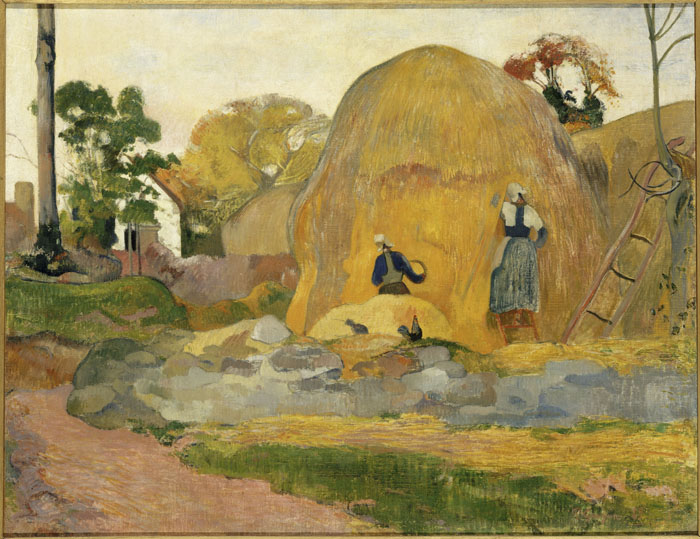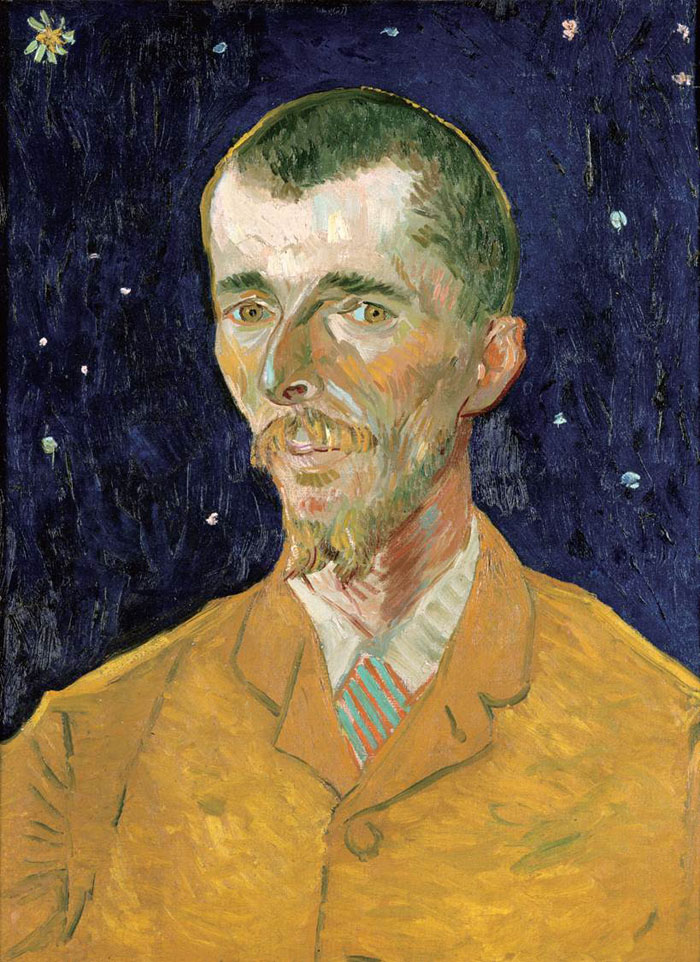 There was a group of painters in the late 19th century who called themselves the Nabis, a group of Post-Impressionist avant-garde artists. They were strongly influenced by Paul Gauguin and started producing decorative paintings with a flat surface. Henri Rousseau painted pictures of primitive nature, far from urban culture, though he never travelled outside the country. He was later praised by avant-garde artists in the 20th century. "The Snake Charmer" (La Charmeuse de serpents) by Rousseau, one of the major works of the exhibition, is well-representative of his style. The painting shows large black snakes that seem to have been awakened by the sound of a pipe played by Eve, who is also painted in the dark due to the backlight. The painting reminds one of a jungle in the distant paradise of an exotic land. The painting was, at the time, strikingly different in its subject, background, style, composition and coloring.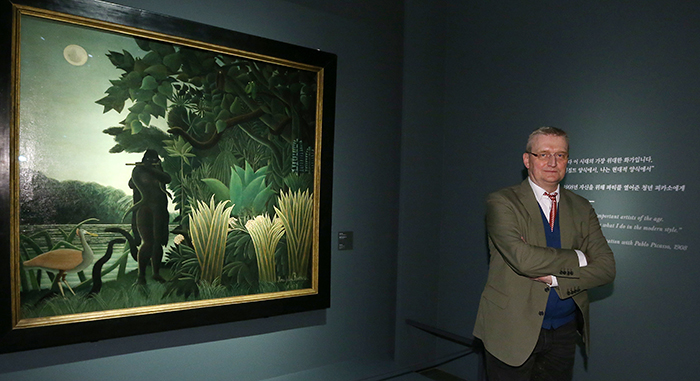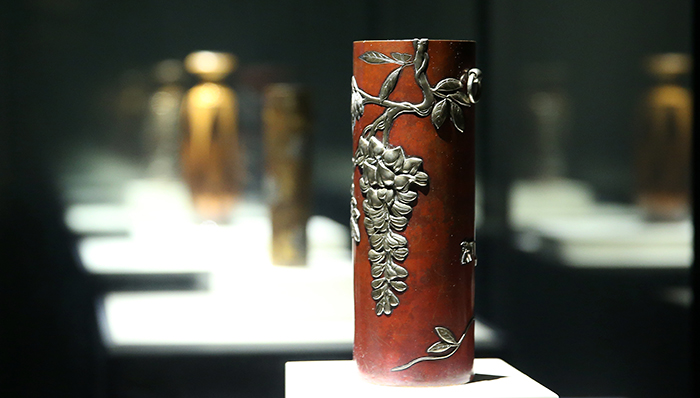 Another theme of the exhibition is life in Paris in the 19th century. Paris developed into a modern city with a continuous urban remodeling that started in 1852. New roads, parks, large public buildings with glass and steel, and cultural facilities were made to celebrate the International Exposition. Parisians enjoyed their leisurely lives along new roads in a newly-built city. "Lighting of the Eiffel Tower for the Universal Exhibition of 1889″ (Embrasement de la Tour Eiffel pendant l'Exposition Universelle de 1889) by Georges Garen and "Visitors to the Exposition Universelle of 1900, in torrential rain" (Visiteurs à l'exposition Universelle de 1900, sous une pluie torrentielle) by Charles Paul Raynouard show the modernized Paris. During the belle époque, aristocrats and bourgeois, the newly-emerged class of wealthy citizens, socialized with one another. Portraits of these aristocrats and bourgeois show the fashion and accessories popular at the time, the social status and other aspects of the upper crust. "Woman with a black boa" (La femme au boa noir) by Henri de Toulouse-Lautrec is one of the many portraits, along with drawings and art nouveau household goods, that show the life of an average Parisian at the time. 
"The exhibition consists of works that show the most of artistic expressions of the 19th century Impressionist movement," said Chief Curator Caroline Mathieu of the Musée d'Orsay during a press conference on May 4. "It will demonstrate how Impressionism was expressed and was developed into other artistic trends." 
"It is important to understand an era through its art," said Director Kim Youngna of the National Museum of Korea. "This exhibition will help understand 19th century Paris and the social transformations of the time." 
The exhibition continues until August 31. For more information, visit https://www.orsay2014.co.kr/pages/?p=17 or call the museum at 02-325-1077.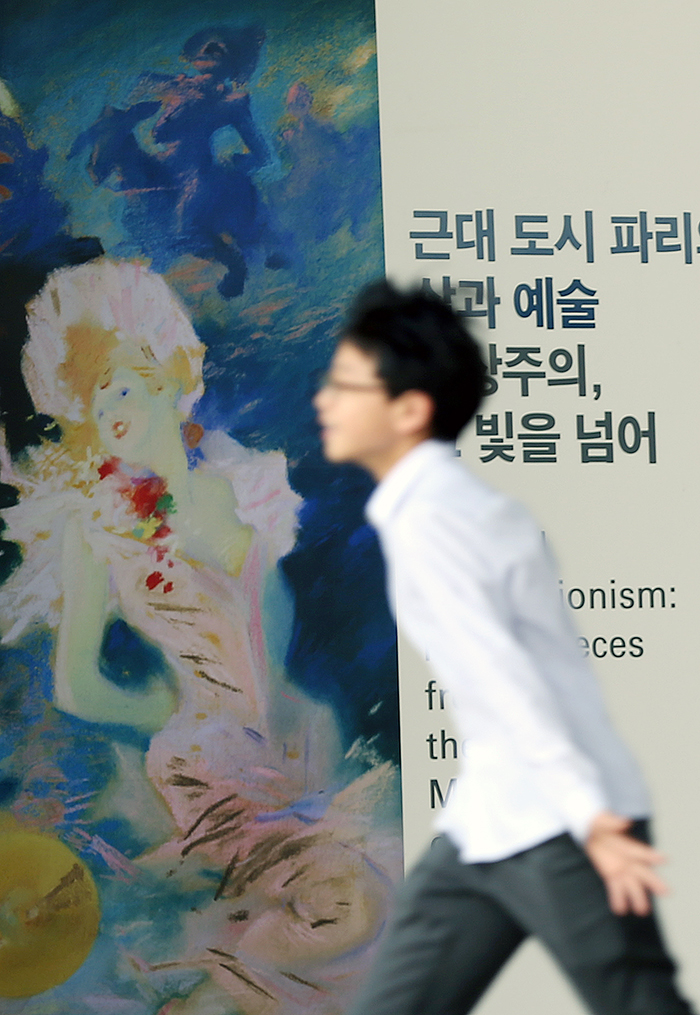 By Limb Jae-un 
Korea.net Staff Writer 
jun2@korea.kr