The Musical BONNIE & CLYDE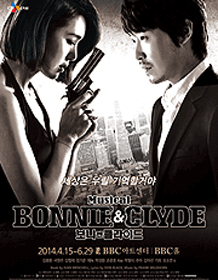 Overview
In 2014, the most impressive and stylish musical, with 185 shots of gunfire, their story as remembered by the world! 
Everything began from the moment when they first came across! 
Synopsis
For wandering youth in the world of uncertainty, there is no future for them. 
In the USA of the 30s, due to the Great Depression resulted from a huge collapse of the stock market, many banks went bankrupt and people lost their housings and jobs. Bonnie is tired of her boring routine as she repeats doing her waitressing jobs every day. One day, she came across Clyde, who attempted to steal her car and two of them fall in love as if they were destined to drawn to each other. 
In the meantime, Blanche urges her husband Buck, who escaped from prison and returned home, to turn himself in, and Clyde, who used to blame his brother's turning in, also became jailed again as he is arrested from his theft. When Clyde is having hard times in the jailhouse due to continuous assaults, he convinces Bonnie to smuggle a gun into his cell that he has hidden in his house and she carries out his favor at her own risk. Clyde again breaks out of prison after threatening a deputy with the gun. Following Clyde, Bonnie dreams of a new life remembered to the world. 
Bonnie and Clyde begin bank robberies travelling all around and those struggling to make a living cheer more and more at their crimes. As they dreamed in their childhood, their story was on the front pages of all newspapers, and the two achieve folk hero when one of their hostages even asks for their autograph during their bank robbery. Alarmed at the situation, the police begin to hunt Bonnie and Clyde by hiring a crack shot. 
Vanue : BBC Theater
ㆍAddress : 

7~9F Community Service Center (new building), Apgujeong Kwanglim Church

ㆍPhone : 

+82-2-2056-5787

ㆍWebsite : 

https://www.bbcac.kr
Genre : Musicals
Dates : Apr 15, 2014 ~ Jun 29, 2014
Age Group : 13 years and older
Running Time : 150minutes (intermission : 20minutes)
Cast : Ki-jun Um, Jang Hyun-seung, Key, hyung-sic Park
Prices :
VIP  130,000 Won

R  110,000 Won

S  80,000 Won

A  50,000 Won