Lantern in central Seoul marks Buddha's birthday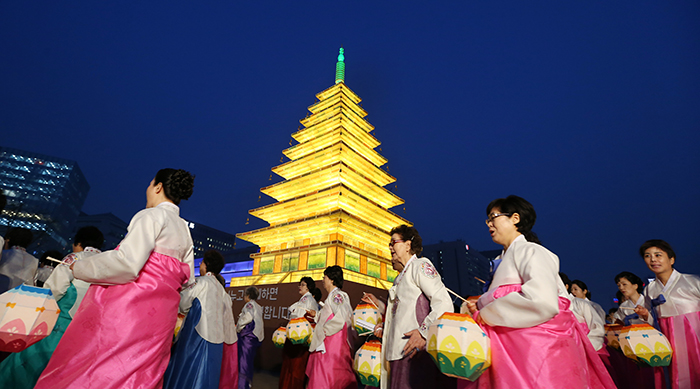 An over-sized lantern resembling the stone pagoda of Mireuksa Temple was lit in Gwanghwamun Square in central Seoul on April 15 to celebrate the Buddha's 2,558th birthday. 
Under the theme of, "Share, be together and you will be happy" (unofficial translation), the event was held to mark the lighting of the lantern. It was followed by a prayer recited by Venerable Jaseung, head of the Jogye Order of Korea, and an encircling march around the lantern by monks and the faithful. 
The lantern resembles the stone pagoda of Mireuksa Temple in Iksan, the capital of the ancient Baekje kingdom (18 B.C.-A.D. 660), one of the Korean Peninsula's three ancient realms. It was made with 500 sheets of 2 meter-long and 77 centimeter-wide hanji, or traditional handmade mulberry paper. It is nearly 70 percent of the real one's size. 
The lotus lantern festival is an annual affair that has thousands of people carrying their lotus lanterns to mark Buddha's birthday. The symbolism of the ceremony lights up the mind with wisdom, warms the world with mercy and shines toward the bright future of the Buddha. Followed by the lighting of the pagoda-shaped lantern, this year's march will begin at 7 p.m. on April 26 and weave from Dungun University, through Dongdaemun Gate, in front of Jonggak and onward to Jogyesa Temple. 
By Jeon Han, Yoon Sojung 
Korea.net Staff Writers
hanjeon@korea.kr