Garosu-gil sets new trends
Young people do not seem to mind the cold on a winter day while they are coming in and out of shops in Garosu-gil, a trendy street in Gangnam District of southern Seoul. It would be understandable if someone were to visit the place and see what kind of culture can be experienced. A trendy atmosphere, house music, stylish restaurants, open air cafés, and fashionable shops are the kind of charms that bring so many to the street. Garosu-gil definitely has a character unmatched by other popular destinations for young people. This place is trendy but the goods sold here are relatively more affordable compared to nearby Cheongdam-dong, where luxury brand stores sell outrageously expensive items. Unlike other trendy spots in Seoul, it is a small mix of everything from small mom-and-pop shops and restaurants to trendy boutiques and cafés. Garosu-gil is a relatively short street that stretches from Sinsa-dong to Apgujeong-dong in the affluent Gangnam District.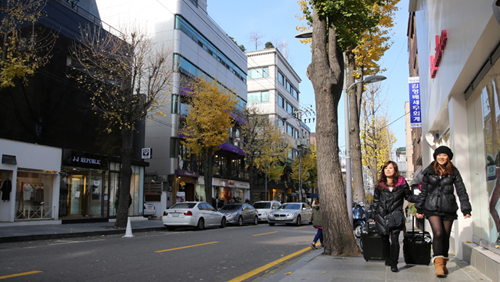 Japanese tourists Kanako Takayama (left) and Tabasa Kobayashi walk the street of Garosu-gil. "Garosu-gil has become a must-see spot for young Japanese tourists because of K-pop and Korean dramas," said Kobayashi (photo: KOCIS). 
Until six to seven years ago, it was just an ordinary 680-meter street with a couple of bars and galleries and a few restaurants, but now it has turned into one of the trendiest spots in the capital. Garosu-gil is young and hip. It is amazing to see how well-dressed and stylish people in the area look. "I often go out to Apgujeong-dong and Garosu-gil to shop," said Lee Jin-hyuk, a 20-something male. "From luxury to vintage, Gangnam seems to attract people of all styles." What is surprising about the street is that it continues to evolve. Old stores give way to new stores, and after a few years it is likely to completely change. The trendy area is also expanding. New shops continue to open up in nearby alleys and backstreets.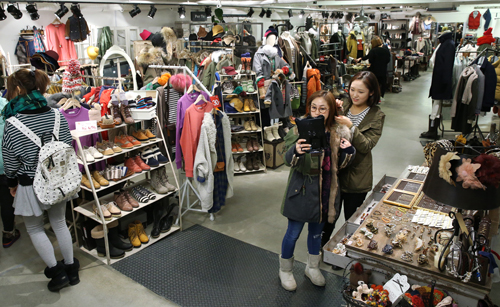 KM Play (K-Design Market PLAY), a multi-shop on Garosu-gil, offers 20 different brands including professional design and fashion mall brands (photo: KOCIS). 
The street itself has changed as it became more commercialistic with large retailers opening up one after another but it still has a coziness unmatched by the crowded streets of Myeongdong or Gangnam Station area. "They sell a lot of unique items similar to the styles worn by K-pop stars like Big Bang and 2NE1, who have distinctive tastes in fashion," said Cho Soo-a, a 20-something female, "so I come here often to shop." On weekends, it is jammed with traffic, with luxury cars queuing up to find a parking spot in the narrow street. Many celebrities can be spotted on the street from time to time and promotions for new brands and products take place there quite often. It is also becoming a popular tourist attraction for foreign travelers, especially for Japanese tourists. "As people in Gangnam like to wear unique styles of clothes, they often prefer new designers over conventional brands," said Kim Min-gyu, a manager at multi-shop Aland. "Professional stylists also frequent the area, looking for special items such as studded caps and other pieces that can be worn on stage."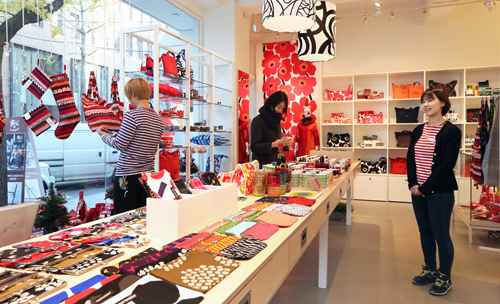 Finnish brand Marimekko sells decorative crafts and home furnishings popular with trendy young customers and tourists (photo: KOCIS).
Small cafés, sandwich places, and tiny but trendy mom-and-pop stores once filled the street, but now large fashion brand stores have started popping up, changing the street's landscape. Massimo Dutti, an upscale sister brand of Spanish brand Zara, opened its store in the area in December 2010. Forever21, an American brand started by a Korean-American couple in 1984, opened in a five-story building in June 2011, followed by Zara and Korean brand 8Seconds in February 2012. Diesel, Camper, and Theory also have stores there. As the street is getting more attention from trendsetters, there are more big brand names expected to come including Hollister. Sixty-year-old Finnish home furnishing brand Marimekko is a gift shop with fashionable items such as lanterns, cushions, bags, and accessories. It is just fun to look around the things sold there. Mag/Mag, a multi-shop, has affordable clothes, shoes, accessories, bags, and decorative gifts. It even has a socks bending machine. Spicy Color and Smile Market are also worth a visit.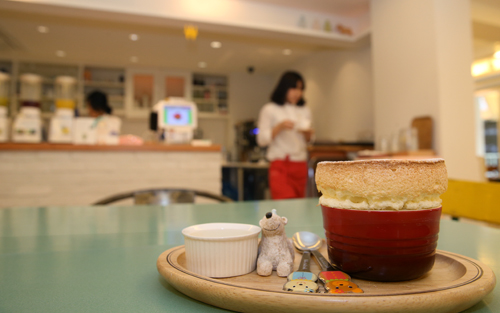 Tasty soufflé is served at Café Lepure on Garosu-gil (photo: KOCIS).
Aland is a multi-shop with merchandise ranging from clothes and hats to accessories and household goods. Clothes designed by independent local designers are trendy and hip but are affordable at the same time. On the fifth floor are household goods including Japanese-style kitchenware such as bowls, chopstick holders, and bean plates. There are also trendy restaurants, cafés, and bars in the area. Sen is a Japanese-style basement pub. Deli Heinz Burg offers cheeses, sausages, hamburgers, soups, and crepes. Diner Pub located nearby has different types of beers and hamburgers. There are also Thai restaurant Pho Thai and fancy Indian restaurant Dal.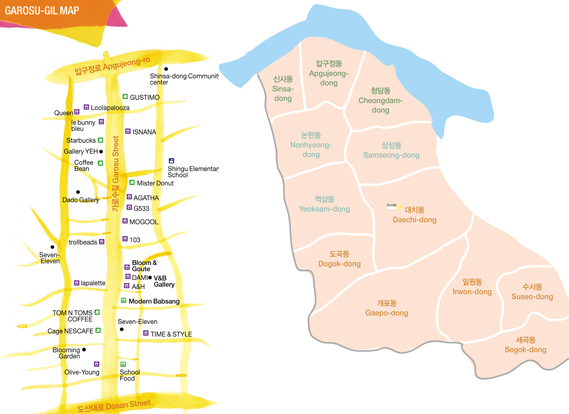 Map of Garosu-gil and Gangnam District (photo courtesy of Gangnam District Office)
Deux Cremes, a stylish dessert café, has various delicious tarts, Café Roys offers various fruit drinks and yogurts, and Get the Lady sells cupcakes. Coffee Smith is a café with a wide open view.By Limb Jae-un
Korea.net Staff Writer