100 modern masterpieces on display at Deoksugung ~2014. 3. 30
One hundred masterpieces of modern Korean art are on display at the gallery in Deoksugung Palace, a branch of the National Museum of Modern and Contemporary Art, Korea (MMCA).
The exhibit is showing 100 paintings: 70 ink and color and 30 oil paintings. They are the products of many highly-acclaimed modern Korean painters, all produced between the 1920s and the 1970s, a most turbulent time in Korean history.
Part 1
The beginning of modernization, 1920s-30s 
Korean contemporary art blossomed with a combination of two distinctive features: traditional uniqueness and the influence of foreign cultures. Due to the limited access and knowledge about art, Korean artists began to form communities and social circles in the early 1920s. Afterward, the winds of change blew through the Korean art world, especially in terms of materials, painting techniques, ways to handle and appreciate art and the artists' style of interaction with the public. It was also during this period that artist and painter were added to the official list of occupations. Genres of art began to be classified, such as oil paintings, sculptures and handicrafts.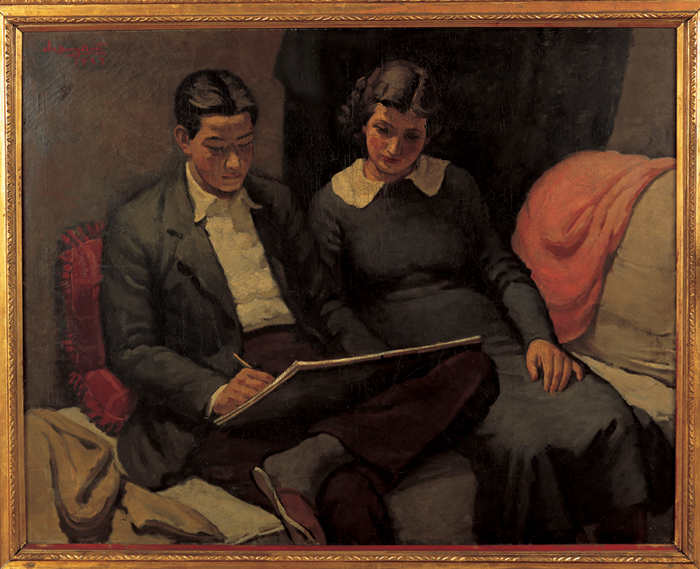 "Atelier" by Kim In-soong (1937), oil on canvas (National Assembly Library)
During this time, the most popular styles were Classical Realism and Impressionism, both having been filtered through the Japanese interpretation of the style. Impressionist art, which concentrates on the reproduction of a subject, gained center stage. The Joseon Arts Exhibition was held annually from 1922 until 1944 and the National Arts Exhibition of Korea got started in the 1950s.
The trend began to slowly change after the late 1920s when artists turned to different styles of art, including Expressionism, abstract art and avant-garde art. In the 1930s, a growing number of artists began to focus on another style that dealt with the inner-self and encouraged creativity.
Part 2
A new style of expression, 1940s-50s
To put it mildly, Korean society experienced great turbulence during the 1940s and 1950s, with the nation gaining independence in 1945. More and more artists pursued American and European styles due to the widespread social trends at the time that avoided any Japanese influence. While distancing themselves from Realism, artists concentrated on expressing their inner-self, an ego that seemed to have long been suppressed. From 1946 onward, specialized art education programs were offered at a growing number of institutions, including Seoul National University. These programs inspired artists to move forward and create new styles of art.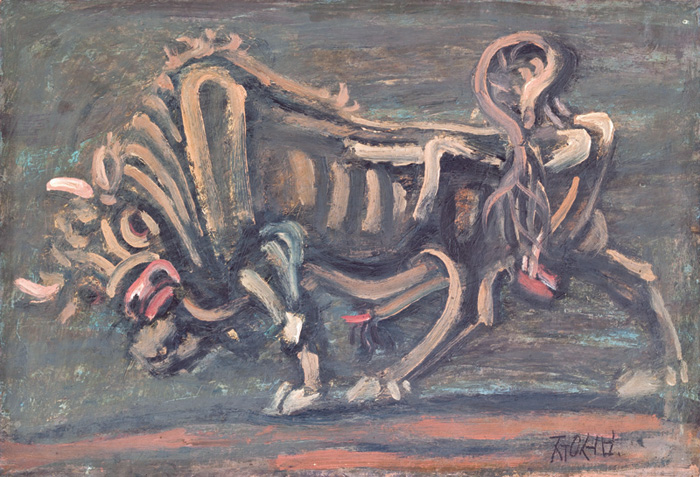 "Bull" by Lee Jung-sup (1953), oil and enamel on paper (Seoul Museum)
Korean artists continued their work after independence, when society was in turmoil and even during the Korean War (1950-1953). In 1949, the National Arts Exhibition of Korea was, for the first time, hosted by the government. It opened amidst war, too. By 1957, a number of artist associations had adopted a Western style of art.
As Korea's art world matured during the 1950s, abstract art and figurative art began to take shape. Sometimes, the two styles were integrated and combined, making an entirely new style of art.
Part 3
Contemporary representation: ink and color paintings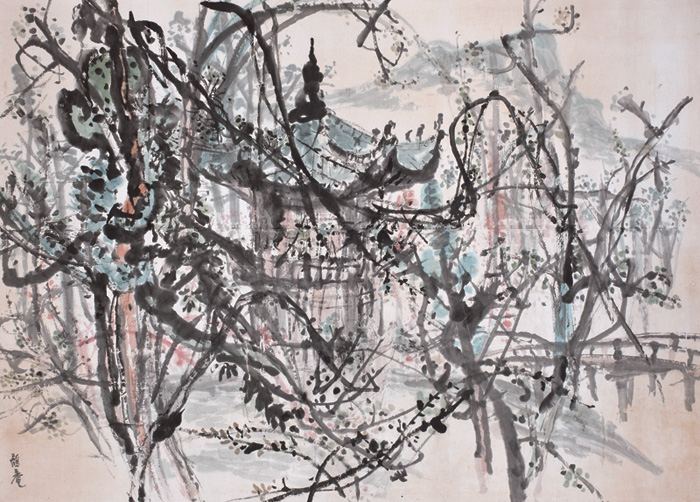 "Hyangwon Pavilion" by Lee Ung-no (1959), ink on paper (private collection)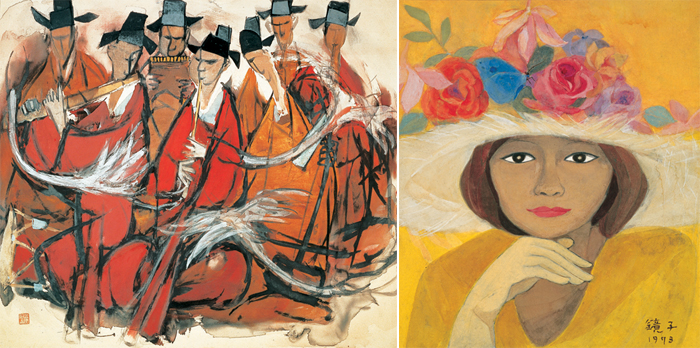 (From left) "The Rhythm of Music" by Kim Ki-chang (1967), color and ink on silk (National Museum of Modern and Contemporary Art, Korea);
"Gilye Sister" by Chun Kyung-ja (1973), color and ink on paper (private collection)
In the 1950s, color and ink painters attempted to produce art work that combined different styles and which brought elements of Western art, such as Cubism, Art Informel and Abstract Expressionism.
With the advent of avant-garde art later in the 1960s, color and ink painters were actively dedicated to abstract art, part of an attempt to stand out against the previous conservative styles.
Part 4
The progress of Abstract Art, 1960s-70s 
In the 1960s, as Korea rose again from the wounds of war, the art scene was quite active. A growing number of established artists opened private exhibitions while younger groups trained themselves with a formal education, bringing life back into the world of art.
In the 1970s, abstract art came into the spotlight. Along with experimental art, it was considered a great breakthrough and began to slowly take the lead in the art world. During this period, artists enjoyed the freedom to exert their individuality, personality and thoughts.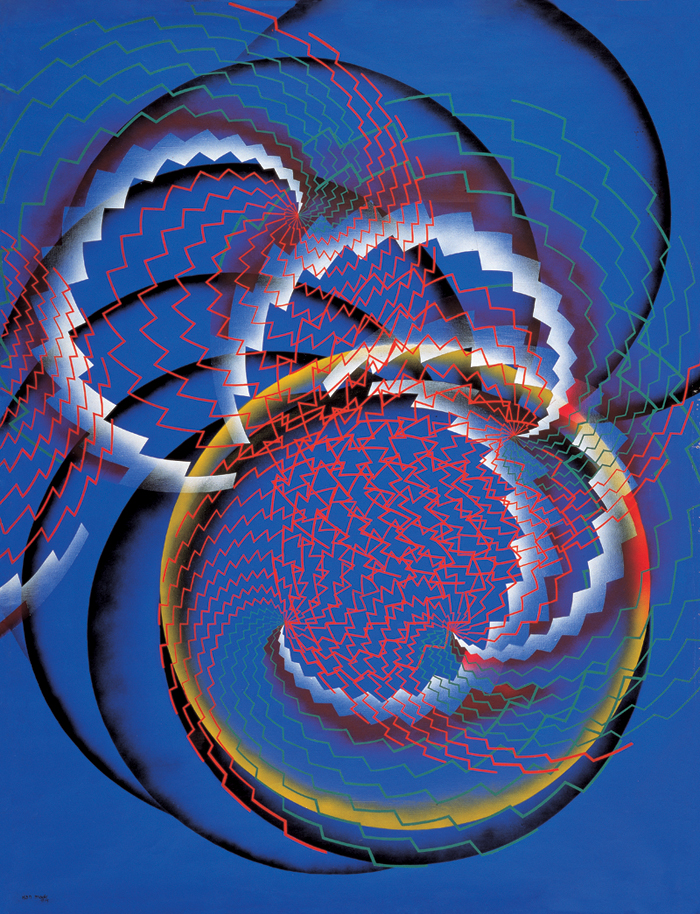 Blue Spiral" by Han Mook (1975), oil on canvas (private collection)
The MMCA exhibition highlighting 100 masterpieces of Korean contemporary art gives visitors the chance to peek into the life and spirit of modern Korean artists during our recent turbulent times.
The exhibition runs until March 30, 2014. During November, it is free of charge for elementary school students. More details can be found at www.koreanpainting.kr, or call 02-318-5745.
(All photos courtesy of the MMCA)
By Lee Seung-ah
Korea.net Staff Writer
Drection: Inside Depksugung
Open Hours: Tue,Wed,Thu  10:00~19:00  Fri, Sat, Sun 10:00~21:00(From 2014 Sunday 10:00~19:00)
Admition fee: Adult 6,000won Youth 3,000won Child 3,000won