Seasonal Activities
A Korea for All Seasons – many seasonal activities waiting for you
With a freezing winter, sweltering summer, fragrant spring and an incredibly colourful fall, the South Korean climate is characterised by 4 perfectly timed and distinct seasons. Regardless of what time of year you visit the peninsula, Korea has a boundless number of seasonal activities to keep you occupied.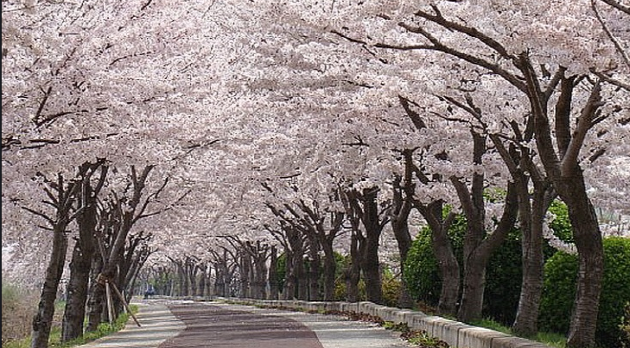 Spring 
After the long, cold winter, Korea comes to life during its perfect, fragrant spring. With temperatures ranging from 0℃ to 23℃ the parks and riverside walks hum with activity and colour.
Undoubtedly, one of the best springtime activities in Korea is the Yeouido Cherry Blossom Festival. A stroll along the 6km stretch of road surrounded by over 1,400 perfect white and pink, deliciously fragrant cherry blossom trees is an experience not to be missed.
In a similar vein, spring is the perfect time of year to view the gardens and flowers in bloom at the palaces and folk villages of Korea – not to mention the stunning nature reserve dividing the two Korea's that can be seen at the 3rd Checkpoint at Panmunjeom's Joint Security Area along the DMZ. Tours of the DMZ can be organised through Korea Tourism here.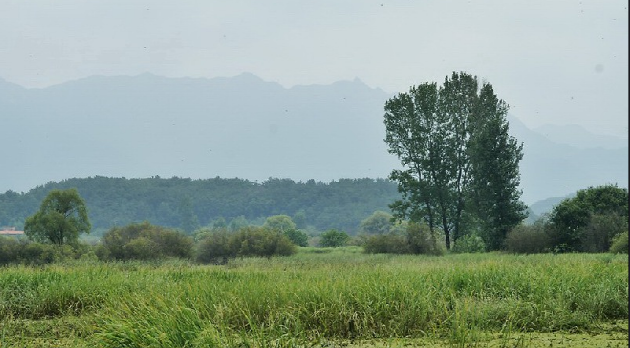 Summer 
The hot and humid summers of Korea can be a challenge. With heavy rains at a peak during the monsoon season of July and temperatures ranging between 17℃ to 30℃, humidity levels can reach the 80s – making things pretty hot and sweaty to say the least!
The 2,400km of coastline skirting South Korea offer a number of great beaches that offer some cool respite from the heat. Haeundae beach in the south-eastern city of Pusan (Busan), Korea's second largest city, is an amazing site to behold in the summer months when the beach is literally transformed into a sea of people as thousands upon thousands cram onto the beach to escape the heat.
Further north, the beautiful Sokcho beach, near the famed Mt. Serok, is a nice and slightly quieter option on the East coast as are the stunning beaches of Jeju Island at the Southern point of South Korea.
On the West coast, the white sands of Daecheon beach offer a quick summer getaway from Seoul with far fewer people than on the East coast beaches… except for a 10 day period in July when Daecheon beach hosts the annual Boreyong Mud Festival, flocked to by thousands of festival-goers looking to get muddy and have some fun in the sun. With mud slides, mud pits, mud wrestling, mud massage, mud art and even a mud prison this is a one of a kind festival that should be on everyone's Korean summertime agenda.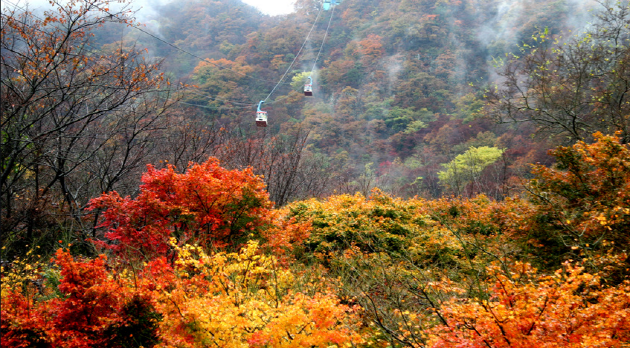 Fall
As in the spring, fall in Korea comes with pleasantly mild temperatures ranging from 3℃ to 26℃ – perfect weather for partaking in one of Korea's favourite pastimes; hiking. With around 70% of the South Korean landscape consisting of mountains, Koreans love nothing more than popping on the hiking boots and heading to the hills. Fall is the perfect time to check out Seroksan (Mt. Serok) in Gangwan-do and Hallasan (Mt. Halla) on Jeju island (Jeju is stunning to visit at any time of year). Despite being two of Korea's highest mountains, both can be climbed with relative ease in a single day. Seroksan also has a cable car option for those who don't feel like a hike. On a clear day, views from either mountain are stunning, particularly in the fall when the mountainsides are transformed into vibrant seas of reds, yellows and oranges.
For something a little more cultured, the Pusan International Film Festival held yearly in October, is one of Asia's most important film festivals and an excellent showcase of Asian films. During the festival, the coastal city of Pusan teams with film buffs and festivities to while away several days.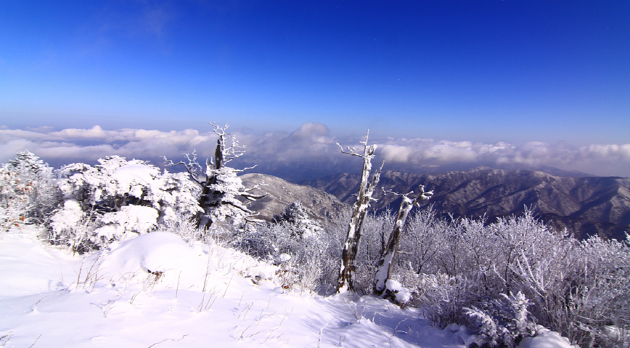 Winter
During the cold and dry Korean winters, temperatures range between -20℃ and +4℃ . With frequent snowfall at the many ski resorts in close proximity to Seoul (all with good facilities and a range of accommodation options) skiing and snowboarding are perfect winter activities in South Korea. AND, compared to skiing in other parts of the world, it's incredibly cheap too!
The best pick for a weekend ski trip is the Yongpyong ski resort (a contender for the 2014 Winter Olympics) located just 200km from Seoul. Ask Now Korea run an excellent and very affordable 3 day ski trip to Yongpyong each Lunar New Year holiday (usually late January/ early February).
If you don't have the time or inclination to leave Seoul, then why not head to one of the many outdoor ice skating rinks around the city? Most are open day and night, allowing you to strap your skates on at any time. The two most popular locations are; The Grand Hyatt Ice Skating Rink and Gwanghwamun Square Skating Park.