French Minister Pellerin causes sensation in Korea
It was as if she was born to be a star. No matter where she went, from the busy streets of Seoul to the crowded subway during her first return Korea, the country of her birth, 39 years after she was sent to France for adoption, journalists followed her with cameras to get a closer shot and pedestrians stuck their necks out to get a glimpse of her. 

From March 23 when Fleur Pellerin, the Korean-born French Minister for Small and Medium-sized Enterprises, Innovation and the Digital Economy, arrived at Incheon International Airport, she was always surrounded by crowds of people. 

From the beginning, her visit to Korea was heralded by various media outlets. The major French daily newspapers Le Monde and Le Figaro and the Japanese daily Tokyo Shimbun reported on her trip to Korea. 



In a special report titled "'Fleurmania,' the Francophile fever that gripped Seoul" on March 26, Le Figaro wrote that she is being treated like a star and that her popularity is a great tool in her mission to improve France's recognition in Asia. 

The purpose of her visit is to bolster ties between Korea and France and help SMEs in both nations build business relations. 

In a keynote speech at a special luncheon held by the French Korean Chamber of Commerce and Industry, Pellerin said her goal is "to make France the first economic partner of Korea in Europe and to considerably increase their bilateral trade." 

Pellerin also emphasized the role of SMEs and their need for support in reaching out to global clients. "It is SMEs that need assistance the most when they wish to expand and develop their activities, even more so internationally," she said. "[SMEs] constitute the backbone of our economies."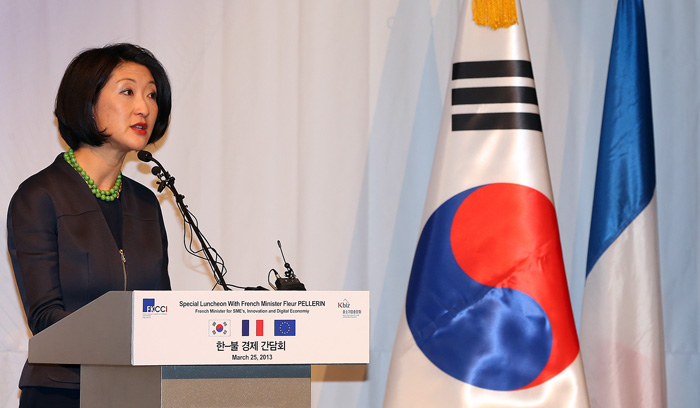 The minister stated her first plan is to "give access to every [French] citizen high-speed Internet access through fiber-optic broadband in the next ten years."

During her five-day trip, she also visited Samsung Electronics and SK Telecom and met their top executives. Pellerin also rode the Seoul Metro on line 9 and tested the 4G LTE network and digital multimedia broadcasting (DMB) with a smartphone. She said she was impressed with the fact that high-speed Internet could work flawlessly on an express train. 

Six months after her birth in 1973, Pellerin was adopted by a French family. A bright student, she received her high school diploma two years early at the age of 16. At the age of 17, she entered the prestigious ESSEC Business School, and graduated from the Ecole nationale d'administration, a state-run administration school in France. 

Many people wondered whether she had resentment toward Korea for sending her abroad for adoption but her answer was clear.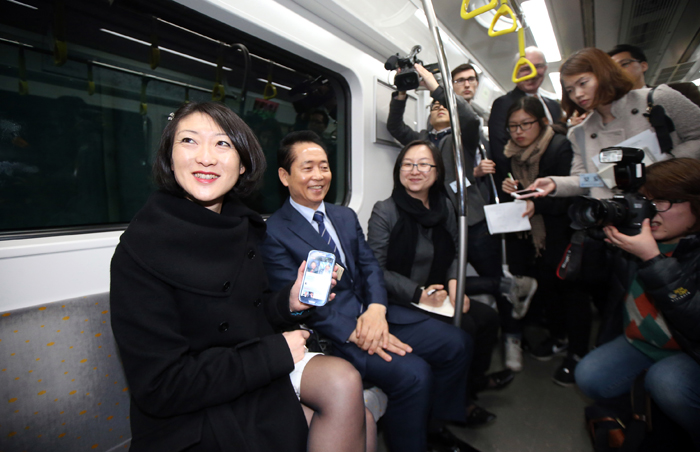 "I don't have any resentment," she said. "I obviously have no memories since I left when I was six months old… I was a very happy child raised by a great French family. I always felt very French." 

She also told Kyodo News when she arrived at Incheon International Airport that Korean-born adoptees are successful around the world and asked that people should not blame a society for putting children up for adoption.