TOUR DURATION
TOUR TIME
TOUR COURSE
1 Day
09:00 ~ 12:30
Hotel – Tongui-dong Baeksong Site(통의동 백송 터) – Tongui Hanok Village (통의한옥마을) – Tong∙In Market (통인시장) – Ogin∙dong the House of Yoon (옥인동 윤씨가옥) – Okrou village (옥류동) – Paiwha Girls' High School (배화여고) – Sa∙jik Park (사직공원) – Hotel
* We pick you up from your hotel one by one.
KRW 25,000 p/p (Min. 4 people)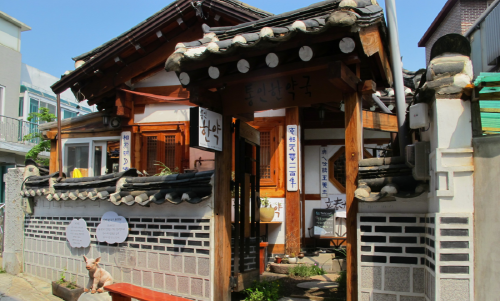 'Seochon Village' literally 'Western Village in Seoul'
'Seochon' is a village which is located west side of the Gyeongbok Palace. This tourist spot has not been famous yet compared with 'Bukchon Hanok Village' which already became one of the famous villages in Seoul. In 'Bukchon Hanok Village', lots of Hanok (Korean traditional house) have been preserved to show over 600 years environment. And many galleries and cafés are located in the alleys; so, modern artistic atmosphere comes along in the village. But to the west of Gyeongbok Palace, there's another area 'Seochon' filled with hanok, where the contorted alleyways of old Seoul remain. 'Seochon' means 'western village' and 'Bukchon' means 'northern village'. Those neighborhoods continue to the eastern side of Mt. Inwangsan and the old city walls. And in terms of history, the 'Seochon' has an important meaning as Bukchon.
Seochon consists of over 300 of the 1,400 hanok that remain within the old city walls, many of them located behind lots of tall buildings now. In Joseon dynasty, the main residents were jungin, that means 'middle people', the position in society between nobleman and commoners. Jungin belonged to a professional middle class of interpreters, doctors, merchants and other positions. The interior of hanok in Seochon is different from Bukchon hanok village, so it is a good opportunity you can compare with Seochon village and Bukchon village. After 1910s', almost all hanok had been built again, so you can experience improved and different style of hanok.
Recently, it is being used as a shooting location of TV dramas and movies. Seochon has been developing as a cultural area. Through the constant change, the area is being changed. Just wander this area along the alleyways and enjoy the unique atmosphere.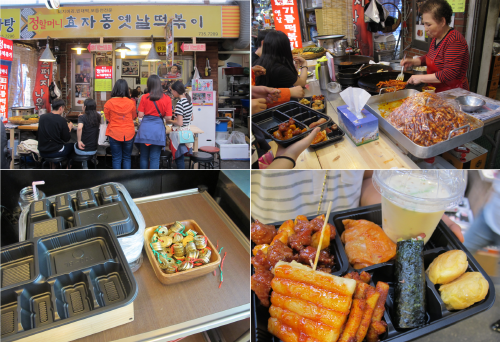 Lunchbox Café in Tong-In Market
There is an interesting thing in the market, which is 'Dosirak Café', literally 'Lunchbox Café'. At the customer service center, located on 2nd floor, you can get a food tray and some coins which worth 500KRW per each. Only using 5,000KRW, you can have a good lunch. If you pay for the food by using coins, the vendors will fill in your empty tray. Many people always queue for their foods. After you fill in the tray by delicious foods, go back to the customer service center again and sit on the cafeteria. Complete you meal having the rice and some soup provided from there.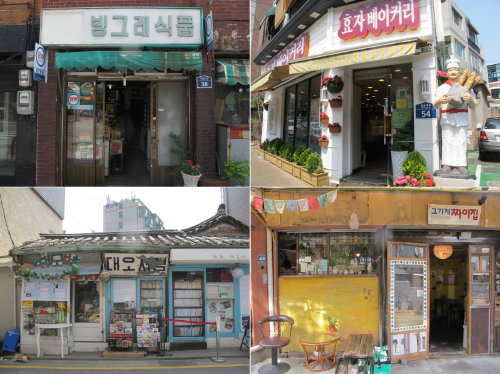 Seochon Western Village which keeps Old Stores
Although many modern cafés and galleries are being sprung up in this village, there are still many stores which keeping old style and signboards. Let's look for the old stores walking around this village and try to take pictures. That is real face of Seoul in 1910s'. Also, right next to the Tong-In Market, there is a famous bakery; the name is 'Hyo-Ja Bakery'. Many people always queue to buy such delicious breads. If you like breads, try to have some.
Tour Condition
– All the tours Include the guide, transportation, admission fee.
– Child fares: 30% DC under 10years of age.
– If you cancel your reservation on tour day. We will apply 100% cancellation fee to you.
– Some morning tours will be dropped off at city hall.
– We notice that we have no responsibility for your personal incidents and losses during all the tours.
– We are stuck in a traffic jam the pick up service will be delayed.
– It is possible to pay all the tour fees by credit card.