VIVALDI PARK SKI WORLD has been noted for being the most visited Ski resort in Korea for seven consecutive years. It has its state-of-the art facilities and slopes suitable for all levels and yet more facilities are newly installed every year to maintain its reputation.
Only 45 minutes from Seoul, It is the closest ski resort from a Seoul and largest Ski area in Seoul metropolitan region.
Surely it will not only give you unforgettable memories, but also will be a perfect get away from your busy life.
This World-class SKI WORLD can accommodate 20,000 visitors daily, covers combined slope area of 1,322,021m2, total slope length of 6,784m. Among a total of 10 lifts VIVALDI PARK SKI WORLD operates, there is a Asia's first 8-seater express chairlift and 8-seater gondola.

Website: https://www.daemyungresort.com/
* Basic Data
Total Slope
Surface Area

Total Number
of Slopes

Total Number
of Lifts

Total Slope
Length

Total Lift
Length

Maximum
Daily Capacity

10 Lifts
(Gondola included)

Approx.
20 thousand guests
* Slope Guide (12 in Total)
| | | | | | |
| --- | --- | --- | --- | --- | --- |
| Slope Name | | | | | |
| | | | | | |
| | | | | | |
| | | | | | |
| | | | | | |
| | | | | | |
| | | | | | |
| | | | | | |
| | | | | | |
| | | | | | |
| | | | | | |
| | | | | | |
| | | | | | |
* Lift Data (10 in Total)
Lift Name

Length (m)

Transferability
(person/h)

Seating capacity

Seats per person

Blues Ⅰ

Blues Ⅱ

Ballads Ⅰ

Ballads Ⅱ

Jazz

Hip-hopⅠ

Hip-hopⅡ

Techno

1,008

3,200

51

8

Gondola

1,115

2,400

42

8

Rock

590

1,800

78

4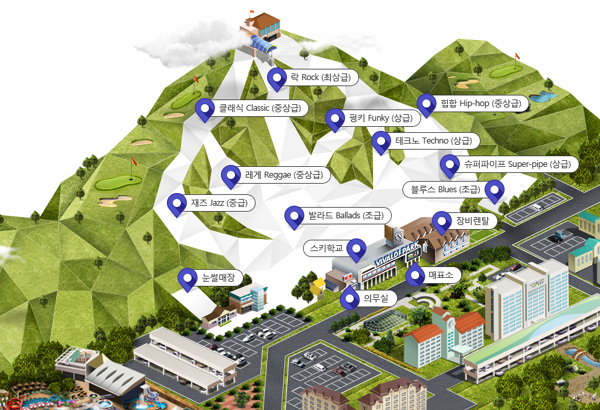 [MAP]
RELATED TOUR
Daemyung VIVALDI PARK Resort Ski Tour