The Original Drawing Show 

The Original Drawing Show is an original art performance that was started by art director Jin-yu Kim in 2007. Utilizing various talents and techniques, the audience can see the fantastic transformation of artwork being drawn and completed at high speeds. The actors' humorous acts work with the audience reactions to make the show even more entertaining.
The combination of art and the stage
The original drawing show is a performance that combines the use of the stage and art. The actors draw on a blank canvas with quick hands. A dramatic display of lights and music increases the excitement. The audience can witness the fantastic transformation of artwork being drawn to completion. While the actors barely have any dialogue, each moment is comical as the situation unfolds.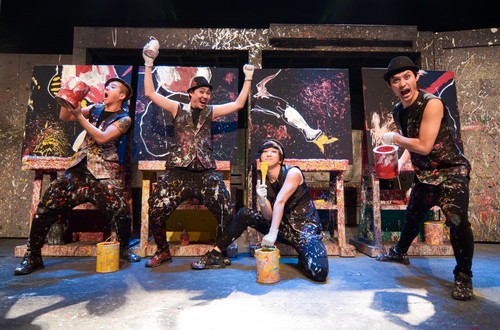 Various talents and techniques appear on stage!
The World's first non-verbal drawing performance! It is the only performance where audiences can watch the whole drawing process of an art work and gives an everlasting impression and laughs to audiences through unbelievable art techniques and effects. 
The Original Drawing Show showcases a variety of talents, techniques, and special effects. Water comes out of a waterfall in the drawing and surprise sketches are made with a brush. A video camera is used for dramatic effect so audiences can see the drawing being drawn on water. The highlight of the show is during the climax when the audience sees the drawings turning into all sorts of colors on the stage.
| | |
| --- | --- |
| Address | 3, Jeongdong-gil, Jung-gu, Seoul |
| Phone | +82-70-4070-8336 |
| | |
| --- | --- |
| Hours of operation | Mon-Fri: 8 PM, Weekends: 5, 8 PM |
| Fee | Approximately 30,000 KRW |
| Days of operation | Tuesday – Sunday |
The audience and a rhythmic performance
Sometimes the actors will come down from the stage to the audience. They might talk to an audience member or even incite participation. Tickets are collected and put into a box and a winner is drawn to receive a prize. Drawings made in the show are given to audience members who want one. After the show, there is a photo session where audience members can take pictures.