Ballerina who Loved a B-boy

Non-Verbal Musical, "Ballerina who Loved a B-boy"
The Ballerina who Loved a B-boy is a World Class Extreme Dance Musical of Korean Origin. No worry about Language ! Dancing tells Everything. Diverse audiences transcending ages, occupations, social status, nationalities, religions, and social strata have appreciated The Ballerina who Loved a B-boy making it a global cultural icon.
The musical Ballerina Who Loved a B-Boy premiered in 2005 and has since been staged more than 4,000 times. In the musical, a ballerina falls in love with a b-boy, gives up her dream of becoming a prima ballerina, and becomes a street dancer to become his love. The musical has inspired 1.5 million theatergoers in 130 countries. People who were at the 2007 Edinburgh Festival Fringe probably remember this musical since it was dubbed the best of the 2,050 performances that were staged. When it hit Broadway, New York, it was so successful that it was staged 50 times.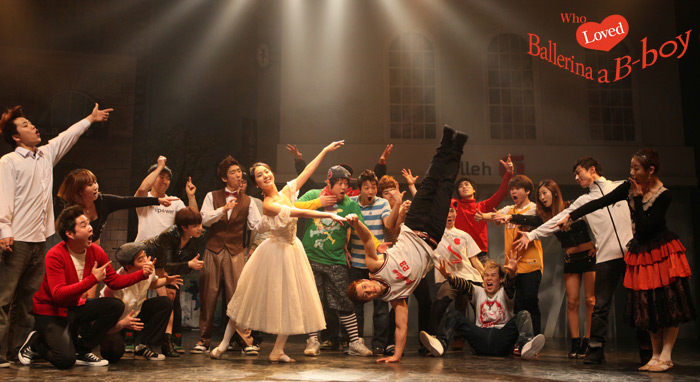 A masterpiece that has fascinated over 2.0 million audiences from over 130 countries.

Selected by the 2007 Edinburgh Fringe Festival as the best among that year's 2,050 entries.

Performed 50 full-up shows on Broadway in 2008.

Selected as a showcase performance for the first ladies attending the G20 summit in Seoul.

Performed in New York, Beijing, Shanghai, Guam, Edinburgh, Osaka, Singapore, and Colombia.

Opened a 700-seat B-Boy performance hall in Beijing in 2012

Introduced in 2013 Korean middle school textbooks.
| | |
| --- | --- |
| Date | December 9, 2005 ~ Open Run |
| Time | Wed~Fri 8pm / Sat 3pm,6pm / Sun 3pm |
| Venue | 3F Kyunghyang Art hill, 22 Jeong-dong, Jung-gu, Seoul |
| Ticket Price | R 50,000 (KRW) |
| Running Time | 90minutes |
A ballerina's classical training is frequently interrupted by the heavy noise from a nearby hip-hop square. This leads to a showdown of dancing genres, as both ballet and street dancers try to outdo one another. The ballerina then falls for the lead B-boy, and gradually grows into his world, becoming a hip-hop dancer herself in the final scene.