Korea House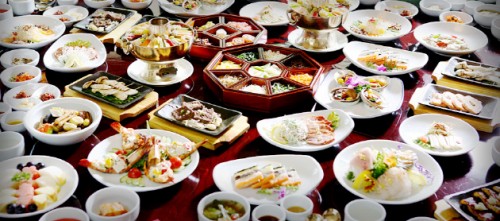 Korea House is a comprehensive cultural complex representing the traditional Korea culture. Korea House not only shows off the exquisite beauty of traditional Korean architecture but also presents traditional Korean food, music, dance, craft-work, weddings etc. to tis visitors. Korea House is located in the center of Korea, in Jung-gu (central district), Seoul, near Chungmuro, the center of the Korean film industry, Namsan traditional Korean House Village and Myeongdong. At Korea House, guests can feel the unique culture of Korea with their five senses in antique and elegant buildings which have received the vital force of Mt. Namsan.
Korea House breathes with the traditions of Korea

Korea House serves both Korean and foreign guests traditional court cuisine including Daejanggeum Table d'hote and Eojin Dinner that are cooked on the basis of the records contained in ancient literature. Also, the Korea House Arts Performance that has been staged for over 31 years is the most time-honored show that has run for over 15,000 performances and has been enjoyed by more than 1,500,000 people from all around the world. In the yard, surrounded by antique traditional Korean houses and a rear garden, a major life event such as a wedding can be conducted according to the formal rituals for traditional weddings on the basis of ancient literature. Furthermore, traditional cultural activities including knotting, Taekgyeon, Korean fan dance and Samulnori are learned through direct experience, and Korea's creative handicrafts such as ceramics, lacquerware inlaid with mother-of-pearl, horn painting, woodcrafts and metal crafts produced by artisans, many of whom are certified as Important Intangible Cultural Properties, are introduced and sold to Korean and foreign guests who visit Korea House.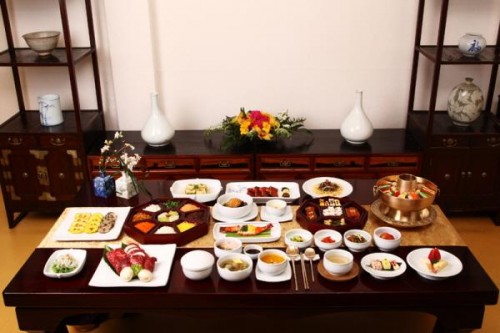 Traditional court cuisine of Korea
The traditional court cuisine of Korea House is cooked on the basis of the records contained in ancient literature. The foods are cooked by superior chefs at Korea House under the supervision of 'Han Bok-ryeo' who has been designated as Important Intangible Cultural Property No. 38 for his expert knowledge about the court cuisine of the Joseon Dynasty).
The representative dishes are Sinseollo (also called 'Yeolguja tang' meaning it makes the mouth happy) which is often put on the dinner table for state guests; Jeonyuhwa which can be shared by friends on happy occasions and Gujeolpan which provides delicate tastes from vegetables and meat arranged on a wooden plate and which is divided into 9 compartments. All the dishes are prepared with the most delicious raw materials of the season in a sincere manner by the best chefs in Korea to provide the best taste and flavor and promote the health of diners.
Come to enjoy the unique tastes of Korea by tasting traditional court cuisine in a charming atmosphere.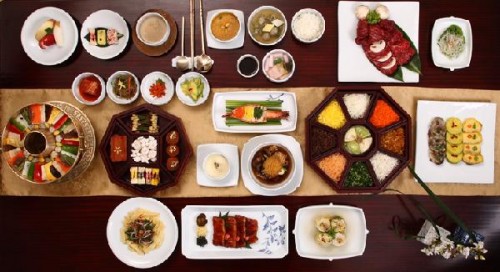 Dinner
The view of Korea House at night is different from the view during the day.
The light of cheongsachorong (traditional Korean lantern with a red-and-blue silk shade) decorating the yard of Korea House make the night view much more wonderful. Create a special memory by having dinner while enjoying the elegant night view.
Lunch Special
Korea House prepares lunch menus with the best materials from each season.
Enjoy the healthy foods of abalone, spring greens, Samgyetang, Chogyemyeon (chicken noodle), Sinseollo, Ddeokguk (rice-cake soup), etc. unique to Korea.
Korean Foods Buffet
Delicious Korean buffet is served for lunch and dinner at 'Sohwadang' and 'Chwiseongwan' in the main building of Korea House. More than 50 delicious Korean dishes can be enjoyed in the buffet.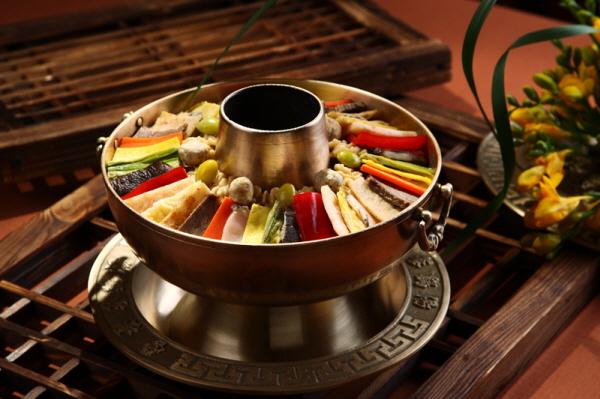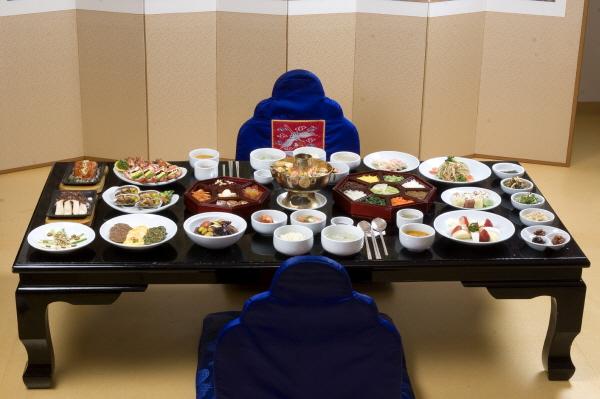 TOP 9' traditional Korean performance
The Korea House Arts Performance that has been staged for over 31 years is the most time-honored show that has been performed over 15,000 times and has been enjoyed by more than 1,500,000 people from all around the world. There are nine different performances combined in an omnibus format that lasts for one hour: Light of Dawn, Pansori, Korean fan dance, Pungmulnori, Chunseol, Arirang Medley, O-go-mu, Salpuri dance, and The grand concert of drums.
At the latter part of the last program in the omnibus performances, 'The grand concert of drums', the performers and the spectators mingle together. When all the performances are over, photo time is given to take pictures with the beautiful performers.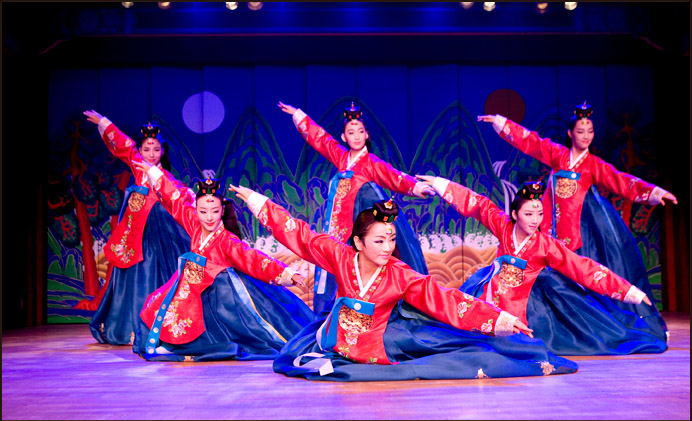 Yeak ("Ritual Music") 
This performance presents a dance choreographed on the basis of a gagok, "Isudaeyeop", relished by the Confucian literati class of Joseon.
The dance is characterized by simple, graceful movements accompanied by elegantly slow music.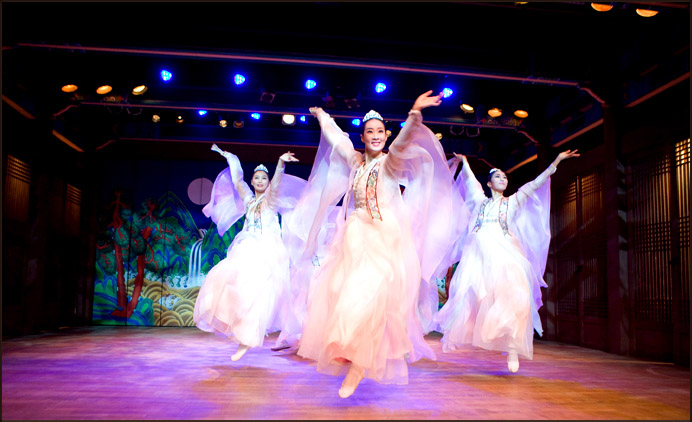 Bicheon ("Flying Celestial Maiden")
This dance is choreographed to depict a human being aspiring for free flight, and consists of movements expressing the beauty of blank space and the noble appearance and freedom of a heron flying in the air.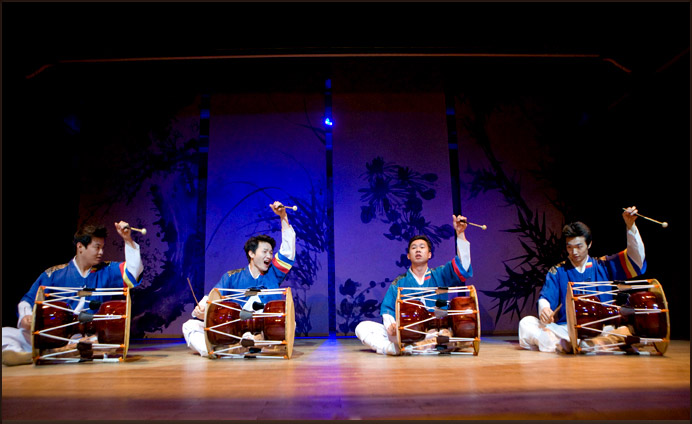 4 Drum(Janggo) performance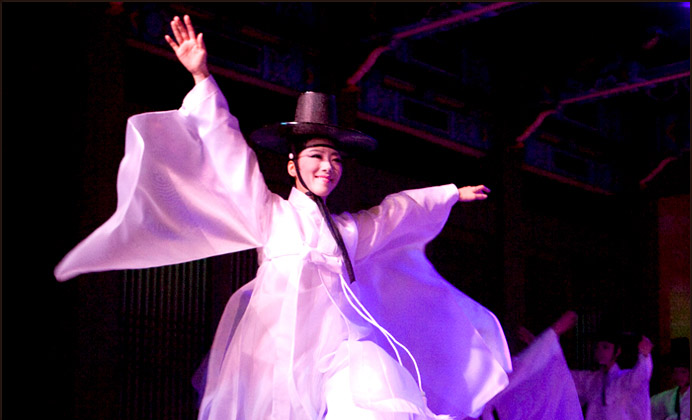 Dongnae Hakchum ("Crane Dance")
This dance preserved in Dongnae, Busan, is performed in white robe and black top hat, representing the elegant appearance of a crane.
The movements express the bird's flight, and its jumping off and landing the ground.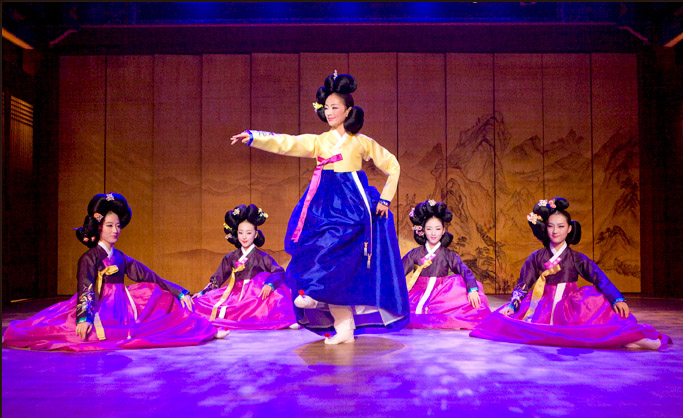 Gyobang Gutgeori Dance 
This dance originated from Gisaengbang in Jinju accompanied by the gutgeori jangdan depicts the dancers who performed at special occasions such as banquets. The movements are rather complex and create a mysterious atmosphere.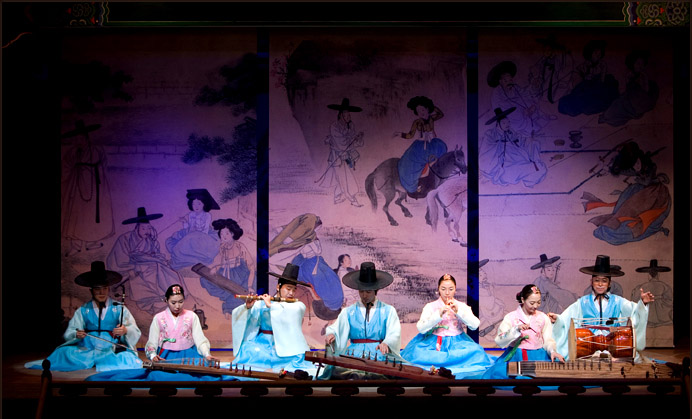 Arirang Medley 
This Korean representative folk music is a collection of various regional forms of Arirang, including Gin Arirang, Gu Arirang, Arirang,etc.
Arirang has been registered as an UNESCO Oral and Intangible Cultural Heritage in 2012.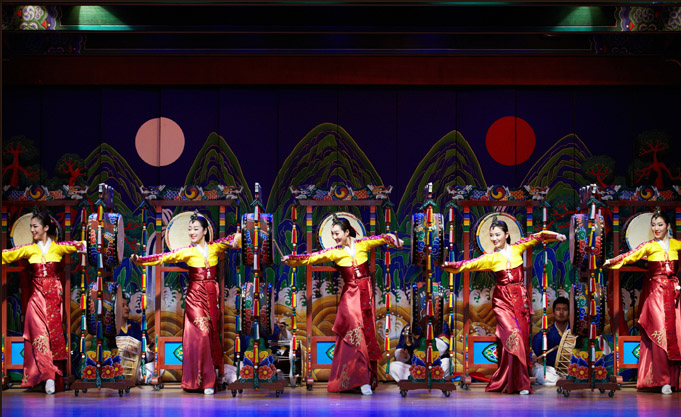 O-go-mu(Five drum dance)
One dancer performs a traditional tune to an accompaniment of five drums. This performance features unified dance movements by dancers.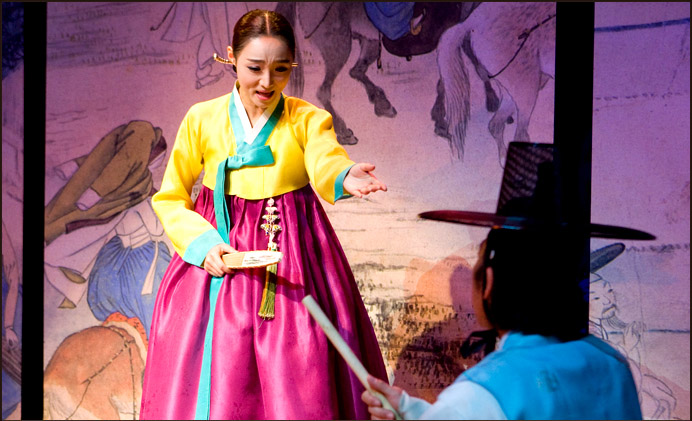 Pansori
It was registered as a UNESCO Oral and Intangible Cultural Heritage in 2003.
The singer sings orally-transmitted stories to a rhythmic beat performed by a drummer.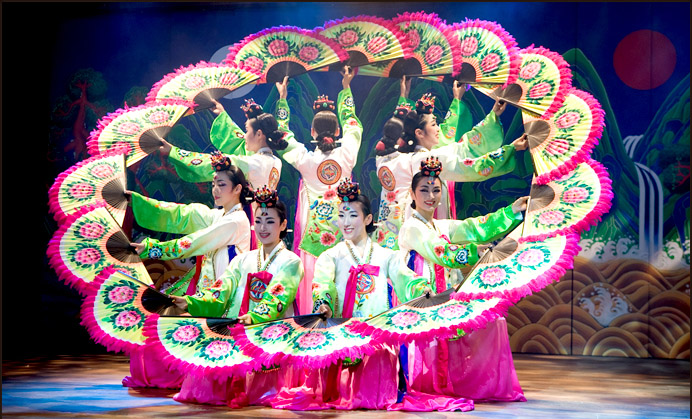 Korean fan dance
The dance is performed by dancers dressed in royal formal dress while holding a fan featuring a peony blossom pattern.
The fan movements depict peony blossoms in an elegant fashion.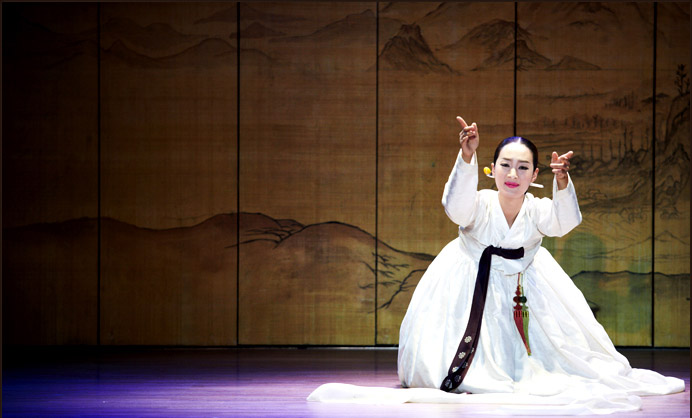 Salpuri dance 
This folk dance shows the supreme beauty of Korean dance, which moves in a seemingly static state.
Designated as Intangible Cultural Heritage No. 97, this dance is a form of exorcism.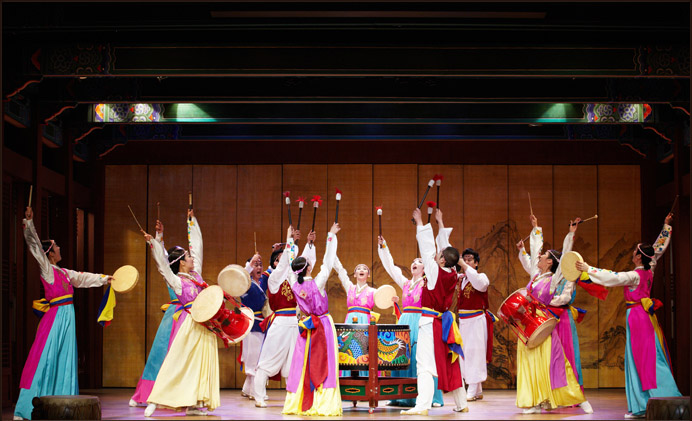 The grand concert of drums
This art performance expresses the full range of characteristics of drums though the use of various types of Korean drums.
It is a dynamic dance which changes splendidly according to the strength and rhythm of the drumbeat.
Buy Your Ticket Here